Corrections at a Crossroads: Convention 2014 is here!
Possibly the biggest challenge facing counties today is the unknown local impact of the likely reforms to the embattled state corrections system, and that's why Wednesday's Opening General Session of ACCA's 2014 Convention is focused on Corrections at a Crossroads. That conversation will continue when the County Prison Reform Policy Team sits down face-to-face with consultants from the Council of State Governments Aug. 28. If you would still like to join your peers from around the state for the convention that runs Tuesday-Thursday of this week, on-site registration is available beginning at 11 a.m. on tomorrow inside the Exhibit Showcase. Get more details here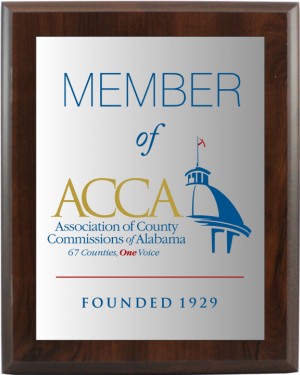 For your courthouse: 67 counties, ONE voice 
It's been 85 years since Alabama county leaders came together to found this Association, and in honor of that milestone, the ACCA Board of Directors voted to provide every county with a membership plaque that is appropriate to hang in your courthouse bearing the ACCA logo and the phrase, "67 counties, ONE voice." These plaques will be distributed to county administrators at the convention registration desk. If your county administrator will not be present, please make sure someone picks up your plaque.
ADEM can help retrofit diesel engines to reduce emissions
The Alabama Department of Environmental Management has $60,000 in funding to install emission-control devices on diesel-powered vehicles and equipment during the fiscal year that begins Oct. 1. ADEM is seeking government partners with an interest in this upgrade for their fleets. The devices cost around $3,000 per vehicle. See this fact sheet for details and contact info.

Road & Bridge Safety Directors: New training opportunity
The First Annual Alabama Rural Road Safety Workshop and Conference will be Sept. 30-Oct. 2, 2014, at Lake Guntersville State Park Lodge. The one-day workshop on Sept. 30 will strengthen your knowledge of available tools and processes to improve safety on your roads. The conference on Oct. 1- 2 will emphasize methods to identify rural road safety issues and appropriate countermeasures. Although participation in this workshop and conference are not mandatory in order to meet the requirements of the Safety Incentive Discount Program, ACCA does encourage all Road & Bridge Safety Directors to attend.  See these conference details for more information. Questions? Contact ACCA Director of Insurance Services Henry van Arcken at hvanarcken@alabamacounties.org.

Election year transitions
Many counties are preparing to welcome new commissioners after the November election, and there's one online resource that may be helpful. The "Handbook for Alabama County Commissioners, Eleventh Edition", published by the Alabama Law Institute in partnership with ACCA is available electronically. New commissioners will also receive a hard copy after they take office.
Hot 5 is a weekly newsletter from the Association of County Commissions of Alabama