This Week's Top 5 Things You Need to Know
PLUS… 

Make Your Post-Session Plans NOW




PLUS… 

Key Dates This Week
1. Trust Fund Payments
This year's payments to counties from the Alabama Trust Fund will total almost $26 million, which is a slight increase from April of 2015. The funds must be expended on capital projects and bond payments as provided in the County Government Capital Improvement Fund (Section 11-29-1 et seq., Code of Alabama). Payments should be received before the end of the month.
2. Five Years Ago
This week counties and others throughout Alabama will mark the 5th anniversary of the devastating tornado outbreak on April 27, 2011. This is a time to remember those who lost their lives as well as the remarkable response and recovery actions of our county employees and volunteers. Counties are encouraged to recognize their emergency management and county engineering personnel for the enormous contribution they made in response to this disaster.
3. Regional SIDP Training Just a Month Away
Exactly one month from today marks the beginning of special regional training courses for members of the ACCA Self-Insurance Funds. The courses, a required element of the Safety Incentive Discount Program (SIDP), are custom-tailored with offerings for Safety Coordinators in the morning and then sessions for Public Officials/Administrative Staff in the afternoon. Counties are free to choose a convenient date. The schedule is:
May 25, 2016 | Cullman County
June 29, 2016 | Autauga County
July 27, 2016 | Conecuh County
Registration is free, and forms are available online. ACCA is looking forward to seeing many of you in Cullman next month! For more information, contact Marcia Collier (mcollier@alabamacounties.org).  Download Registration Forms
4. All Are Welcome for May 3 County Day
There's just one more County Day at the Legislature this session for "the One voice of county government" to converge on Montgomery in large numbers. With key legislation hanging in the balance, scheduled counties (Bibb, Blount, Clay, Conecuh, Cullman, Franklin, Henry, Houston, Lowndes, Macon, Randolph and Sumter) are encouraged to make a strong showing during the end-of-the-session crunch. In addition, anyone from any county is welcome to join the group for this final push, especially anyone who may have missed an earlier County Day. Activities begin at 11 a.m. with lunch and a briefing at the ACCA Office followed by lobbying at the State House beginning at noon. If you are coming, please communicate your plans to Brandy Perry (334-263-7594 or bperry@alabamacounties.org) so that lunch can be ordered for you.
5.

New Investment Options Coming this Fall from Nationwide

Nationwide Retirement Plans, which provides the NACo Defined Contribution and Retirement Program, has recently assessed the available investment options and identified opportunities to provide greater value to participants. Starting in the fall, some additional investment funds will be added to the lineup. Letters have already been mailed to plan sponsors, and participants can expect to receive detailed information by mail in early September. The Association will provide additional information to participating counties later this summer.

Notice: The ACCA office is closed today for the state holiday.
---
Hot 5′s Hot Tip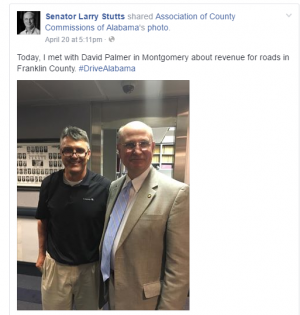 Time to Make Post-Session Plans

The 2016 Regular Session of the Alabama Legislature is likely to wrap up in less than two weeks, which makes this an ideal time to plan some post-session follow up with your legislators. Building – and maintaining – good working relationships with legislators is a year-round priority, and county leaders are encouraged to go ahead and schedule post-session meetings to thank legislators for their work on behalf of counties and to discuss any lingering issues or questions about county government.
And, anytime you meet with senators or representatives, take a photo and post it on Facebook. And a comment that thanks the legislator for his or her time discussing county concerns is appropriate just about any time you meet with a legislator.
In the last week, Sen. Larry Stutts "liked" and "shared" this photo taken with Franklin County Engineer David Palmer during discussions about transportation funding.
KEY DATES THIS WEEK
 TODAY
→ State holiday
→ NACE Conference continues (through 4/28)
WEDNESDAY, APRIL 27
→ ACCA Board meets
→ Administrative Professionals Day
SATURDAY, APRIL 30