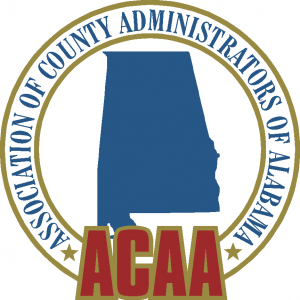 Administrators, it's time to mark your calendars for the ACAA Regional Meetings, all taking place between March 26 and April 6.
This year, the ACAA Board is taking steps to allow County Administrators to better network and build relationships with one another, so each county has been assigned a meeting day to gather with Administrators nearby.
Each county's regional meeting will be held at a nearby courthouse and consist of an official meeting from 10 a.m. to noon, followed by lunch at a local restaurant.  Be sure to R.S.V.P. for yours by emailing Jeannie Gaines, Public Relations Manager.
Region 1: Colbert – March 28
Colbert, Franklin, Marion, Winston, Walker, Fayette, Lamar
Region 2: Limestone – April 3
Lauderdale, Limestone, Madison, Lawrence, Morgan, Cullman
Region 3: Jefferson – March 28
Jackson, Marshall, DeKalb, Etowah, Cherokee, Blount, Jefferson, St. Clair
Region 4: Randolph – April 3
Calhoun, Cleburne, Randolph, Clay, Talladega, Coosa, Tallapoosa
Region 5: Autauga – April 5
Pickens, Tuscaloosa, Bibb, Shelby, Sumter, Greene, Hale, Perry, Chilton, Autauga
Region 6: Attending Local Meetings
Choctaw, Marengo, Dallas, Lowndes, Clarke, Butler, Wilcox
Region 7: Mobile – April 4
Washington, Mobile, Baldwin, Escambia, Conecuh, Covington, Monroe
Region 8: Elmore – March 29
Chambers, Lee, Elmore, Montgomery, Macon, Bullock, Russell
Region 9: Coffee – April 5
Crenshaw, Pike, Barbour, Coffee, Dale, Henry, Geneva, Houston