This Week's Top 5 Things You Need to Know
PLUS… HOT TIP: More Evidence that Alabama Voters Support Infrastructure Investment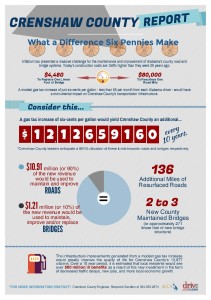 PLUS… Key Dates This Week
1. 10-Year County Road Plans Ready for Review
Thanks to local info provided by county engineers, there are now customized 10-Year County Road Plans for all 67 counties. The one-page PDFs detail "What a Difference Six Pennies Make" in each county, and engineers are encouraged to access the reports using the link below and review their plan for accuracy. If changes are needed, please contact Terri Reynolds (treynolds@alabamacounties.org or 334-263-7594) right away.
Folder | 10-Year County Road Plans
(Note: A Dropbox account is not necessary to access the reports.
Use the link that says "No thanks, continue to view")
With the legislature's special session starting one week from today, utilization of these plans will be discussed on this week's Association of County Engineers of Alabama (ACEA) webinar, set for this Thursday at 2 p.m. Register for ACEA webinar
2. Senator Urges Alabama Legislature to Vote on Infrastructure Funding During Special Session
Saying "we cannot ignore this crisis," Sen. Gerald Dial has called for lawmakers to give priority to transportation funding in the upcoming special session.
"The poor condition of Alabama's roads and bridges is adversely impacting the safety and overall quality of life of Alabama citizens—not to mention our economic development opportunities. We must generate a new revenue source to provide enough money to fix our deteriorating transportation system," Dial said in this Aug. 4 press release.
The special session, which lasts no more than 10 legislative days, begins Monday, Aug. 15. County officials and employees are encouraged to contact their House and Senate members this week to urge them to give priority to transportation funding when they return to Montgomery.
3. ACCA Insurance Funds to Announce Rates and Refunds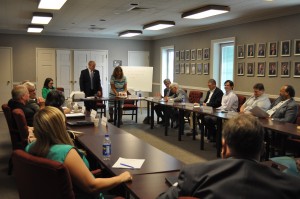 The Boards of Trustees for the ACCA Workers' Compensation Self-Insurers' Fund and the ACCA Liability Self-Insurance Fund Inc. met last week to set the premium contribution rates for the upcoming year as well as to determine refunds, which are only possible through the continued progress counties are making in safety and other areas of risk control. Insurance rates and refunds will be announced at the Self-Insurance Funds' Membership Meeting, which will be held at 2 p.m., August 16, in the Perdido Beach Resort's Sand Castle Room, during ACCA's 88th Annual Convention. Please make plans to have at least one person from your county or county-related entity present at this meeting to pick up your Premium Contribution and Refund Summary. Questions? Contact ACCA Director of Insurance Services Henry van Arcken (hvanarcken@alabamacounties.org).
4. Omnibus Changes at Budget Time
County administrators and commissioners are reminded that amendments to the so-called "Omnibus Pay Act" will take effect with the budget starting Oct. 1, 2016.  The most significant change provides that all county officials subject to the law will receive any uniform increases in compensation granted to all county employees – regardless of when these increases are given during the budget year.
5. Counting Down to the 88th Annual ACCA Convention
One week from today county officials and employees will head to Baldwin County for the 88th Annual ACCA Convention. We will be focusing on "Alabama 2040: Setting the Stage for the Future" so that counties can prepare for the changes ahead because the importance of county services is not likely to diminish in the decades to come.
PREVIEW THE CONVENTION PROGRAM
There are a few remaining opportunities for golfers on Monday, Aug. 15. Contact Donna Key (dkey@alabamacounties.org or 334-263-7594) as soon as possible if you are interested.
The fishing expedition on Monday, Aug. 15, still has room for a few more anglers. Contact Jennifer Datcher (jdatcher@alabamacounties.org or 334-263-7594) if you want to participate.
The Registration Desk will open at 11 a.m. on Tuesday, Aug. 16, inside the Exhibit Showcase, and on-site registration will be available.
---
Hot 5′s Hot Tip

Talking Points | More Evidence that Alabama Voters Support Infrastructure Investment
Legislators received a memo from the ACCA last month citing a recent poll of 300 registered voters in an Alabama House district that has been held by a Republican for the last 25 years. It found the following:
When asked how important it is for lawmakers to pass a transportation funding plan within the next year, 80 percent of respondents said it was important.
75 percent of respondents said they supported their House member taking a leadership role in addressing Alabama's deteriorating roads and bridges.
And, when asked directly if they would support or oppose a fixed, six-cents per gallon gas tax increase, more than 50 percent of the respondents said they would support the increase.
Sonny Brasfield, ACCA executive director, believes that concern about voter reaction hampered legislators' ability to have serious debate about new revenue during the regular session. "It's becoming clear though, that Alabama voters recognize the urgency of this issue. At the local level, citizens say they are willing to make new investments in our infrastructure, but only if they are assured those dollars are spent responsibly," said Brasfield.
---
KEY DATES THIS WEEK
THURSDAY, AUGUST 11, 2016
Alabama Juvenile Justice Task Force
2 p.m. | Association of County Engineers of Alabama (ACEA) Webinar