This Week's Top 5 Things You Need to Know
PLUS…Hot 5's HOT TIP | Get in the Game: County Commission Magazine Hitting Shelves
PLUS…Key Dates This Week
1. ACCA Board Proposes 67 Voices on Legislative Committee
Last month the ACCA Board of Directors proposed an amendment to the Association's By-Laws that would restructure the ACCA Legislative Committee to consist of 67 members, one county commissioner or chair from each county. If approved by the membership, the change will ensure each that each county has a voice when the critical legislative decisions must be made. The deadline to submit the name of a Legislative Committee representative is Tuesday, August 15. Those who wish to submit a representative or are unsure if their county has submitted a representative may contact Beth Sievers.
2. Abby Luker Fills ACCA Director of Communication and Engagement Position
On Tuesday, August 1, Abby Luker joined the Association as the new Director of Communication and Engagement. In this position, Abby will be tasked with unifying the Association's communication, education and legislative efforts to create a more cohesive and engaging approach to meeting county needs and strengthening the county voice.
Abby is a native of Coosa County, where she grew up in the courthouse alongside her father, Charles Luker, who served as the County's Revenue Commissioner for nearly 40 years before retiring from public office. Abby brings to the Association experience in federal, state and local levels of government, along with experience handling communications for a statewide association and a top-tier Montgomery law firm. She received her master's in advertising and public relations from The University of Alabama and her bachelor's in print journalism and public relations from Troy University.
The Association is excited to welcome Abby to the county family, and she is eager to begin sharing her knowledge with county leaders. If Abby can be of assistance to you in any matter, please feel free to call her at (334) 263-7594 or email her at aluker@alabamacounties.org.
3. ACCA Nominating Committee to Conduct Leadership Interviews This Week
The ACCA Nominating Committee will meet on Wednesday, August 9, at the Association office to conduct interviews for the 2017-2018 Vice President and Minority Director positions. The Association would like to express its sincere gratitude to the members of this year's Nominating Committee, listed below, as their efforts play an integral role in determining the future of the Association's leadership: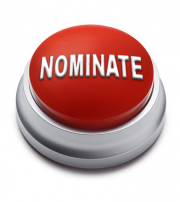 Chairperson   Ray Long, Morgan County – Immediate Past President
District 1        Roger Hayes, Winston County
District 2        Roger Jones, Madison County
District 3        Jeff Overstreet, Etowah County
District 4        Chris Green, Blount County
District 5        Sandra Little Brown, Jefferson County
District 6        Marcus Campbell, Sumter County
District 7        Jackie Swinford, Talladega County
District 8        Debbie Wood, Chambers County
District 9        Ronda M. Walker, Montgomery County
District 10      Tucker Dorsey, Baldwin County
District 11      Charlie Sankey, Crenshaw County
District 12      Merceria Ludgood, Mobile County
4. Counting Down to the 89th Annual Convention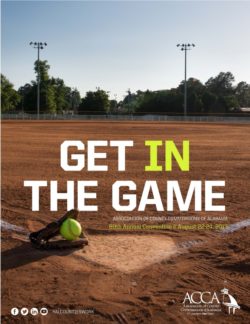 Two weeks from now county officials, employees, vendors, and Association staff will arrive in Orange Beach for the 89th Annual Convention. This year's convention is focused on motivating county leaders to lead their community by getting off the sidelines and getting in the game.
Click here to preview the convention program.
The Convention registration desk will be open from 11 a.m. to 5 p.m. on Tuesday, August 22. Onsite registration will be available, but you may also register online now by clicking here.
5. ACCA Insurance Funds to Announce Rates and Refunds
The Boards of Trustees for the ACCA Workers' Compensation Self-Insurers' Fund and the ACCA Liability Self-Insurance Fund Inc. met last week to set the premium contribution rates and determine refunds for the upcoming year. These refunds are only possible through the continued progress being made by counties in safety and other areas of risk control. Insurance rates and refunds will be announced at the Workers' Compensation and Liability Insurance Fund Meeting on Tuesday, August 22, at 2 p.m. at the ACCA 89th Annual Convention. Please make plans to have someone from your county or county-related entity present at the meeting to pick up your Premium Contribution and Refund Summary. Questions? Contact ACCA Coordinator of Insurance Services Marcia Collier.
---
Hot 5′s Hot Tip
Get in the Game: County Commission Magazine Hitting Shelves
The pre-convention issue of County Commission Magazine will hit mailboxes at the end of this week. This issue is packed with essential convention information that will have you ready to Get in the Game. Read speaker bios, view agendas, and learn about the issues- all in one magazine! For questions about County Commission Magazine, contact Jeannie Gaines.
---
KEY DATES THIS WEEK
Deadline for Annual Convention Refunds
WEDNESDAY, AUGUST 9
10:00 a.m. | Nominating Committee Meeting
THURSDAY, AUGUST 10
8:30 a.m. | Below 100 Class, Butler County
FRIDAY, AUGUST 11
• Candidates for ACCA Board of Directors Deadline