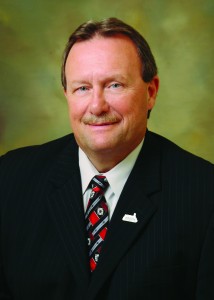 It has been a whirlwind for Marshall County Commissioner Bill Stricklend since August, when he was elected to be an officer in the Association of County Commissions of Alabama.
With an eye for both small details and the big picture, he had already made an impact in the Association that he says is the "nucleus" of county government in our state by serving two years on the ACCA Board of Directors and four years on the ACCA Liability Self-Insurance Fund Inc.'s board.
He is in a one-year term as vice-president, and if the traditional officer rotation is followed, Stricklend will become ACCA's president in 2016.
The current whirlwind of activity can really be traced back to the summer of 2007, when then-Gov. Bob Riley appointed Stricklend to a partial term on the Marshall County Commission representing District 1.
That was the same year that the Alabama Legislature passed the County Modernization Act, which made numerous updates and improvements to the statutes governing the basic operation of county government.
That kind of forethought impressed Stricklend, now 57, who through his career in law enforcement had been involved with legislative advocacy in the past.
"One of the things I marvel at with ACCA is the ability to get bills passed," he said. "As long as we speak with one voice, we get a lot of attention. When we splinter, not so much. I see ACCA as the nucleus for the counties."
As someone who wants to "bring the local story to Montgomery," Stricklend has taken on two new responsibilities where he serves as an important county voice at the state level. He has been appointed to the Alabama First Responder Wireless Commission, which is charged with increasing "interoperability" or the ability for different law enforcement agencies to communicate with each other, and the Alabama Prison Reform Task Force, which is taking a systemic look at how to reform the state's overcrowded, underfunded corrections system.
In both cases, the work "is going to impact this state for years to come, and the counties need a voice," Stricklend said. "It's important to me and the Association that I represent the counties so the counties don't end up toting the burden."
It's just another way he sees the small details (including 13 years of different state and federal mandates to achieve interoperability and the relevant technological changes that have happened in those years) and the big picture.
He is firmly grounded in Marshall County, his home and birthplace some 57 years ago. His commission district numbers about 25,000 people today in the city of Arab and surrounding areas along the county's western border.
Retired from law enforcement now, Stricklend spent 22 years in the profession, and his last position was chief investigator for the local district attorney. A graduate of Arab High School, the commissioner earned an associate's degree in law enforcement from Wallace State Community College Hanceville.
He and his wife, Kaye, reside in Arab. They have a daughter, Katlyn, who is a first-year law student at the University of Alabama. For recreation, Stricklend enjoys hunting and fishing as well as riding and raising horses.
As is his habit, he looks to the future with two different levels of focus. Stricklend knows the challenges of his district, where there are 350 miles of county roads. And he sees how counties all across the state struggle to maintain their infrastructure as costs continue to rise and funding is level at best.
From his perspective, ACCA's challenges are two-fold, starting with building connections with new commissioners who have never been engaged in government before. And he has another idea in mind that will involve all 351 elected commissioners in Alabama.
"Ronald Reagan said, 'You shall never talk bad about another Republican,'" Stricklend said. "I feel that about commissioners. We need to be cohesive throughout the state."
From the January/February 2015 issue of County Commission magazine