This Week's Top 5 Things You Need to Know
PLUS… HOT TIP: County Voices on Twitter
PLUS… Key Dates This Week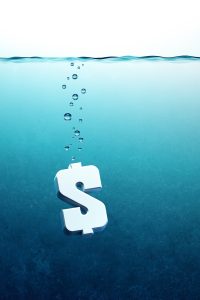 1. New Law to Help Address Lowe's Lawsuits Takes Effect This Week 
Thanks to the legislative advocacy of counties, a new law takes effect on Saturday in response to a potentially "astronomical" revenue loss. The law, Act 2016-127, makes it possible for counties to be represented by specialized outside counsel in property tax cases, such as widespread efforts by the Lowe's home improvement chains. (Read more "Brasfield on Lowe's Lawsuits: Potential loss of revenue 'astronomical'")
This is just one of several state laws coming into effect or full implementation on Oct. 1, and ACCA has prepared a summary of key changes impacting counties.
*
2. Make Your Reservation for the 2016 ACCA Legislative Conference
The 2016 ACCA Legislative Conference is scheduled for December 7-8 at the Renaissance Montgomery Hotel and Conference Center in Montgomery, Alabama. The Association staff is working on the topics and will get those out as soon as possible, but click here to download a skeleton agenda that will help in making your plans. In the meantime, please move forward with making your hotel reservations. Rooms at the Renaissance are $140 per night and can be reserved by following this link: RESERVE HOTEL ROOMS The deadline for making reservations is November 6. You can also REGISTER FOR THE CONFERENCE by clicking here.
3. New Tools for Counties at www.AlabamaCounties.org 
Updated Comparative Data on Alabama Counties
That's right – the brand-new, 9th edition of Comparative Data on Alabama Counties  is available for download. Special appreciation is expressed to counties who participated in the survey, conducted by Auburn University's Government and Economic Development Institute on behalf of the Association.
DOWNLOAD IT NOW Comparative Data on Alabama Counties
Revised Primer on Alabama's Open Meetings Law 
A wealth of information and sample documents are now available online – 24/7 – to assist county officials and professionals with Alabama's Open Meetings Law. The 63-page primer provides the full text of the law and guidance tailored specifically to county government. There are also sample Rules of Procedure, Public Notice Records and letters for Executive Sessions.
4. Board Developing Priority Goals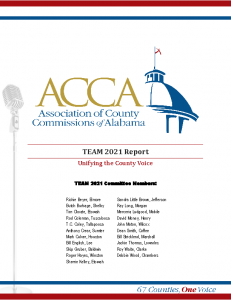 Work on the Association's immediate goals for the next 18 months began with the Board of Directors' annual two-day seminar earlier this month. The priority objectives will come from the current five-year strategic plan, "Unifying the County Voice." Final action on the work plan is scheduled for the Board's December meeting. Members are encouraged to review the strategic plan and offer input on the priority activities by contacting Sonny Brasfield at sbrasfield@alabamacounties.org
5. Critically Important Amendments on Statewide Ballot
The November ballot includes 14 proposed constitutional amendments – three of which are of critical importance to county governments. The Association staff will hold a webinar on Monday, October 3, at 10:30 a.m. to review the contents of the proposed constitutional amendments and discuss the statewide county effort needed to ensure their passage.
County commissioners and administrators are encouraged to watch their email for the registration information, which will be distributed this afternoon at 1:30 pm. It is critically important that every county is represented on this call. If you have any questions about registering for the webinar, please contact Terri Reynolds at treynolds@alabamacounties.org.
---
Hot 5′s Hot Tip

County Voices on Twitter
Is your county or county agency on Twitter? Let ACCA know (by replying to this email) so we can update the Twitter list AL's 67 counties. ( @HenryCoALRdDept was added just last week!)
Want to keep up with Alabama counties in the twittersphere? Subscribe to the list at this link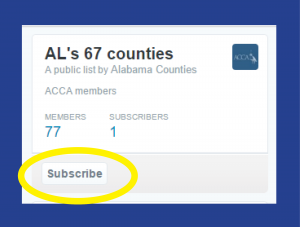 ---

KEY DATES THIS WEEK
TODAY
10 a.m. | Alabama Juvenile Justice Task Force
10 a.m. | County Revenue Officers Association of Alabama (CROAA) Legislative Committee
1 p.m. | Association of County Engineers of Alabama (ACEA) Legislative Committee
Grant Deadline | Energy-Efficient Retrofits of Local Governments
TUESDAY, SEPTEMBER 27, 2016
5 p.m. | Statewide Transportation Plan Public Meeting in Mobile
WEDNESDAY, SEPTEMBER 28, 2016
2 p.m. | Webinar, County Revenue Officers Association of Alabama (CROAA)
4:30 p.m. | Statewide Transportation Plan Public Meeting in Montgomery
THURSDAY, SEPTEMBER 29, 2016
10 a.m. | Alabama Association of 9-1-1 Districts (AAND) Legislative Committee
SATURDAY, OCTOBER 1, 2016 – HAPPY NEW YEAR 2016-17!
Premiums Due | Workers' Compensation Self-Insurers' Fund
Deadline | Membership Dues, Association of County Commissions of Alabama (ACCA)
Effective Date for Several Laws Enacted in 2016