This Week's Top 5 Things You Need to Know
PLUS…Hot 5's HOT TIP | Convention Notes this Week
PLUS…Key Dates This Week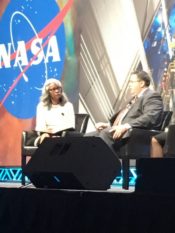 1. Board of Directors of the National Association of Counties
Elmore County Engineer Richie Beyer will join the Board of Directors of the National Association of Counties (NACo) today as a representative of the National Association of County Engineers (NACE). He will serve alongside Escambia County Commissioner Larry White and Chambers County Chair Debbie Wood, who represent Alabama as County Commissioner members.
As her tenure of dedicated service comes to an end today, the Association would also like to thank Mobile County Commissioner Merceria Ludgood for her three years as a member of the NACo Executive Committee, representing the South Region.
Pictured left: Commissioner Ludgood interviews Todd May, Director of NASA's Marshall Space Flight Center, during the Opening General Session of the NACo Annual Conference on Saturday.
2. Local Government Health Insurance Program Rates
The Local Government Health Insurance Board will adopt rates for the upcoming year in early September. Although the new rates have not been adopted, counties are advised to budget for a 7% rate increase to ensure that adjustments are minimal once the new rates are adopted. Be on the lookout for an update from the Association office once the new rates have been adopted.
3. Alabama Juvenile Task Force Update
The Alabama Juvenile Justice Task Force met at the Statehouse on Thursday, July 20th to continue discussions in an effort to bring sweeping reforms to the Juvenile Justice System in Alabama. Probate Judge and County Commission Chair, David Money, represented the interest of Alabama Counties during the task force meeting.
The Pew Charitable Trust Foundation presented the task force with data reflecting juvenile trends in the state ranging from the intake of juveniles, through the detention process and post adjudication. The task force will meet again in August for another data analysis meeting. Proposed Legislation will be voted on by the task force in November.
4. Funding Opportunities from the ADECA Energy Division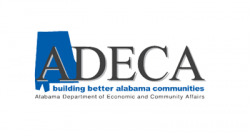 Funding opportunities from the Alabama Department of Economic and Community Affairs Energy Division are now listed here. Funding opportunities range from wastewater treatment facilities to K-12 schools. Counties with questions may contact Elizabeth Grimes with ADECA.
5. Business Privilege Tax Distributions
Annual distributions of the Business Privilege Tax will be dispersed to counties this week. This tax represents revenue previously received by counties from the former Shares Tax levied against businesses for the value of stock held by county residents. Counties with questions about the distribution should contact the Association office.
---
Hot 5′s Hot Tip
Convention Notes this Week
This final installation of the Association's convention newsletter, Convention Notes, will be delivered to county inboxes this week. This issue will contain final details, agenda items, deadlines, and more. Those who have not registered for the 89th Annual Convention are encouraged to do so by clicking here. For more information on this year's convention, please contact Jeannie Gaines.
---
KEY DATES THIS WEEK
TODAY, MONDAY, JULY 24
WEDNESDAY, JULY 26