This Week's Top 5 Things You Need to Know
PLUS… 

HOT TIP: Next Steps for the DRIVE Alabama Coalition
PLUS… 

Key Dates This Week
1. Membership in the ACCA Liability Fund Has Its Rewards!
Checks totaling almost $1.2 million are being mailed this week to members of the ACCA Liability Self-Insurance Fund, Inc. The checks include investment dividends and safety incentives for qualified Fund Members participating in the 2014-15 Safety Incentive Discount Program (SIDP). For more information contact Marcia Collier (mcollier@alabamacounties.org or 334-263-7594).
2. Today is the Day for Ethics Filings
All elected officials in Alabama and many government employees are required by law to file a Statement of Economic Interests disclosure form with the Alabama Ethics Commission each year. Because the usual deadline fell on a weekend this year, disclosures containing information about calendar year 2015 must be submitted by Monday, May 2, 2016. Forms and instructions are online.
3. Rooms at the ACCA Convention Hotel Going Fast 
This year's ACCA Annual Convention is all about Alabama 2040: Setting the Stage for the Future, and, as in years past, all sessions will be located at the Perdido Beach Resort.
County officials and employees received first notice about room availability last month. There's typically a waiting list for hotel rooms in the resort long before the discount code expires, and there's no reason to think this year will be any different.
Hotel information has now been made available to vendors and exhibitors who participate in the convention in large numbers. Counties are encouraged to book their rooms at the resort as quickly as possible.
Details – including online convention registration AND the hotel discount code – are all at this link:
4. Brasfield named to Yellowhammer's Power & Influence 50
When Yellowhammer News rolled out the latest list of the "50 most powerful and influential players in Alabama politics and business," most of the slots went to elected officials and business leaders. Only a dozen people working in politics as lobbyists or consultants made the cut.
Counties will be proud to note that Sonny Brasfield, executive director of the Association of County Commissions of Alabama, is featured in the Yellowhammer Power & Influence 50. "Brasfield has built out a grassroots network that becomes a powerful force when activated … it really moves the needle when they start calling legislators … he sticks to his guns for his counties, and it has paid off," the news site wrote.
ACCA President Ray Long commended Brasfield, saying, "We talk about the unified voice of county government, and that is a huge responsibility to advocate for the best interests of all counties – urban and rural and in-between. This is a tremendous honor for Sonny Brasfield and all 67 counties, and I cannot begin to convey my gratitude for all that he does for the membership. I don't want to think about where county government would be without him."
5. Deadline Coming up for EMA Conferences
Though the events are still more than a month away, time is growing short to reserve your hotel room for the Alabama Association of Emergency Managers (AAEM) Conference and Governor's Preparedness Conference. The back-to-back conferences are June 14-16 at the Marriott Shoals in Florence, and the discounted room rate is available for reservations made no later than Friday, May 13. The events are packed with local, state and national experts with sessions focusing on natural and manmade emergencies. Use the link below to find out more.
---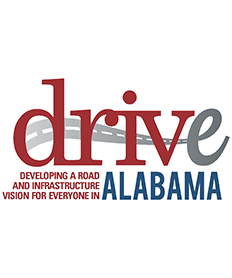 Hot 5′s Hot Tip

 



What You Can Do: Next Steps for the DRIVE Alabama Coalition

The county engineer-led DRIVE Alabama coalition is not quite seven months old but there has already been a real change in the conversations about the state's road and bridge infrastructure. There are far more people who acknowledge the deteriorated condition of Alabama infrastructure. The "Silent Crisis" is silent no more!
Even so, there are still Alabamians who have not heard DRIVE Alabama's message: that our state needs a long-range, sustainable plan for road and bridge infrastructure.
What can you do?
Keep the conversation going.
Continue to use the DRIVE Alabama resources to educate the public on the problem and the solution.
Website www.DriveAlabama.org
DRIVE Alabama on Facebook
@DriveAlabama on Twitter
 Invite others to join the conversation.
You've got hundreds of Facebook friends, right? Invite 5 Facebook friends to "like" DRIVE Alabama
Share YOUR county's stories of problems and progress.
When there's an example of just how much investing in infrastructure matters in your county, share it with the ACCA staff. Your example might be a problem or it might be a victory. Either way, ACCA wants to know about it. Cell phone pictures are a big plus. Show us the current projects that are ongoing as well as the dream projects. Send examples to Terri Reynolds (treynolds@alabamacounties.org).