This Week's Top 5 Things You Need to Know
PLUS… HOT TIP | Wanted: Bad Roads
PLUS… Key Dates This Week
1. Clearing long-overdue debts owed to counties
The Association's County Debt Set Off Program continues to reap hundreds of thousands of dollars in benefits for county corporations and instrumentalities across the state! The program is designed to allow county entities to intercept overdue debts by off-setting a portion of a debtor's state income tax refund.
Two months into 2017, the program has already recovered $370,000 for enrolled entities and is on pace to surpass the program's annual total last year. For more information about the Debt Set Off Program, please contact Chase Cobb.
2. County Day Changes 
Since the Legislature has scheduled a two-week spring break for the end of this month, there's been a change to the schedule for County Days. County leaders who were planning to "walk the halls" at the Statehouse on March 29 are now asked to please come to Montgomery on April 12 instead. This change affects: 
Barbour, Chambers, Choctaw, Clarke,
 Coosa, DeKalb, Lamar, Lawrence,
Madison, Montgomery & Shelby counties
Other scheduled County Days – including this Wednesday – are unchanged.
Download | County Day Flier (Revised)
3. Time Running Short for Introducing Local Bills
Today marks the start of the 5th week of the 2017 Legislative Session, with the Legislature gearing up for a two-week recess at the end of the month. A third of the session's working days will be complete by this Thursday, March 9. For this reason, any county interested in passing a local bill this session needs to begin advertising no later than next week.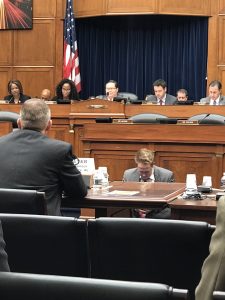 4. Alabama County Engineer Testifies in Congress
When two Congressional subcommittees investigated the environmental barriers to infrastructure growth last week, many of their questions were fielded by an Alabama county engineer who – like his colleagues around the state – is all-too-familiar with this kind of red tape.
If a resurfacing project is funded by federal dollars (rather than local dollars), on average it will cost twice as much and take 9-12 months longer, testified Elmore County Engineer Richie Beyer. As he recommended specific exemptions that would help significantly, Beyer also made it clear that these issues were not unique to his county or state, but that they hamper counties all across the country.
Special appreciation is expressed to U.S. Rep. Gary Palmer, chairman of the Subcommittee on Intergovernmental Affairs of the U.S. House Committee on Oversight and Government Reform.
Video of Richie Beyer testifying in Congress
5. Liability Self-Insurance Fund Safety Awards
Want to be eligible for a safety award that comes with a check? Counties that win the 2017 awards from the ACCA Liability Self-Insurance Fund Inc. must meet 2 criteria:
Lowest loss ratios over the last 3 years
Submit an application listing your safety improvement and loss reduction stories
The one-page application simply asks you to name specific steps that have helped your county achieve such an outstanding safety record. Questions? Contact Marcia Collier (334-263-7594).
---
Hot 5′s Hot Tip
WANTED: Bad Roads
It's one thing to hear about a bad road – and it's another thing entirely to see it.
That's why ACCA is asking you to send photos of bad roads.
Take a quick picture with your phone, and then you can shoot it to us with just a couple taps in the ACCA67 mobile app. Use the blue button labeled "Photos" and follow the instructions from there. More than 350 county leaders have downloaded the app since its January debut, and if you have any questions, please contact Jeannie Gaines for assistance.
---
KEY DATES
TODAY – MONDAY, MARCH 6
Refund Checks Mailed | ACCA Workers' Compensation Self-Insurers' Fund
WEDNESDAY, MARCH 8
THURSDAY, MARCH 9