This Week's Top 5 Things You Need to Know
PLUS…

HIGH-FIVE for Better Roads 

Social Media

 

Toolkit




PLUS… 

Key Dates This Week
1. HB 394: Gamechanging Impact for Each County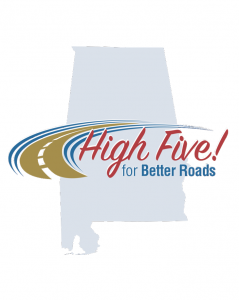 While the HIGH-FIVE campaign is helping Alabamians learn how a $0.06 gas tax increase would affect their wallets, numbers are now available so that counties can begin to assess the "gamechanging" impact on their roads and bridges.
The Association calculated these estimates based on an increase of $0.06 per gallon. These figures are also based on the Alabama Transportation Safety Fund distribution as it passed the Alabama Legislature. (SB 180 is awaiting the governor's signature.)
Every effort was made so that these figures would be as reliable as possible, so that county officials and employees could use this information to help build support for HB 394 among legislators and citizens in your communities. However, please note that these are estimates only – and that there could be slight variations if the legislation becomes law.
2. ACAA Webinar THIS Thursday
As a reminder, the April webinar for members of the Association of County Administrators of Alabama (ACAA) is April 21 – this Thursday – at 2 p.m. Both the date and time were adjusted this month to work around the legislative session. If you have any questions or would like to suggest a topic, please contact Terri Reynolds (334-263-7594 or treynolds@alabamacounties.org).
Click here to REGISTER for Thursday's ACAA Webinar
3. Liability Fund Board of Trustees Meet This Week
The ACCA Liability Self-Insurance Fund, Inc. Board of Trustees will be meeting this Wednesday, April 20, to discuss the implementation of the property insurance program, set to begin on October 1, 2016. Details regarding the Property insurance program should be finalized next month and sent out to counties soon thereafter. For any questions regarding the property insurance program, please contact Henry van Arcken, ACCA Director of Insurance Services, at 334-263-7594 or hvanarcken@alabamacounties.org.
4. Register Now for the 2016 NACo Annual Conference!
Are you ready for Lights, Leadership, Action in Long Beach, Los Angeles County? Register for the 2016 NACo Annual Conference & Exhibition, where you will have the opportunity to network with county officials, experts from the private and nonprofit sectors and other leaders from across the country. This is your chance to exchange cutting-edge best practices and shape NACo's federal policy agenda for the year ahead. Register today to take advantage of special early bird registration rates. For more information, go to www.NACo.org/Annual.
5. Did you hear?
This year's ACCA Annual Convention is all about Alabama 2040: Setting the Stage for the Future, and here are a few questions that county leaders will tackle there.
What will the State of Alabama look like in the year 2040?
Where will people live?
What will our major areas of employment be?
What social issues will affect our state?
How do we begin to prepare county government today to take care of our citizens 20 years from now? 
County officials and staff leaders won't want to miss those discussions during the opening general session – or presentations about prison reform, FEMA deductibles or exciting projects started by second-term commissioners in the PLAN 2016 leadership network. And that's just the opening day!
You can get tons of details – including online convention registration AND the hotel discount code – at this link:
Notice: The ACCA office is scheduled to be closed Monday, April 25, for the state holiday. If that changes once the Legislature's meeting schedule is finalized, counties will be notified.
---
Hot 5′s Hot Tip  

Social Media Toolkit: Severe Weather Safety
How can you encourage legislators to support an increased gas tax for better roads? There are simple things you can do on social media to convey that there is strong support throughout the state for infrastructure investment. And the ACCA staff has assembled everything you need to get started in this Social Media Advocacy Toolkit.
There are suggested posts, complete with graphics, that can be used to:
Communicate your support
Share reliable "just-the-facts" info
Put the estimated $5/month per vehicle cost in perspective (That's just one five-dollar foot-long sandwich a month!)
You can find all this in the HIGH FIVE for Better Roads Social Media Advocacy Kit.
If you have questions about using any of the tools, please contact Terri Reynolds (treynolds@alabamacounties.org or 334-263-7594).
KEY DATES THIS WEEK
TUESDAY, APRIL 19
→ County Day for Bullock, Covington, Dale, Dallas, Fayette, Greene, Jackson, Lee, Talladega and Washington
→ Liability Board Advisory Committee
WEDNESDAY, APRIL 20
→ Searches & Use of Force, Alabama Jail Training Academy (AJTA)
→ Board of Trustees, ACCA Liability Self-Insurance Fund, Inc.
THURSDAY, APRIL 21
→ Searches & Use of Force, Alabama Jail Training Academy (AJTA)
→ Landfills, Hazardous Waste & Solid Materials, Alabama Local Government Training Institute (ALGTI)
→ Association of County Administrators of Alabama (ACAA) Webinar, 2 p.m.
FRIDAY, APRIL 22
→ Alabama PALS Spring Clean Up Ends
→ Landfills, Hazardous Waste & Solid Materials, Alabama Local Government Training Institute (ALGTI)
SUNDAY, APRIL 24
→ Annual Conference begins, National Association of County Engineers (NACE)