This Week's Top 5 Things You Need to Know
1. Federal Disaster Aid for 39 Counties
Many areas of Alabama will have access to federal disaster aid to recover from the effects of late December severe weather. The president has issued a disaster declaration for the severe storms, tornadoes, straight-line winds and flooding that occurred Dec. 23-31, 2015. Public assistance to help with expenses for emergency work and repair or replacement of disaster-damaged facilities is available for the following counties:
Autauga, Barbour, Blount, Bullock, Butler, Chambers, Cherokee, Clay, Cleburne, Coffee, Colbert, Conecuh, Covington, Crenshaw, Cullman, Dale, DeKalb, Elmore, Escambia, Fayette, Franklin, Geneva, Henry, Houston, Jackson, Lamar, Lawrence, Lee, Lowndes, Macon, Marion, Marshall, Monroe, Perry, Pike, Russell, St. Clair, Walker, and Winston counties.
All counties are eligible for the Hazard Mitigation Grant Program. For additional information, please see this FEMA Fact Sheet DR 4251.
2. Not Too Shabby
The 11 counties participating in the ACCA Income Tax Set-off Program received a total of $94,000 in debt payments during 2015.  As a pilot project last year, each of the counties submitted only one specific form of debt to be collected through the program.  With tax season in full swing, the Association anticipates significant growth in the program during the next several months.  Counties interested in being a part of the program in 2017 are encouraged to contact Chase Cobb (334-263-7594 or ccobb@alabamacounties.org).
3. Financial Statements Training
This Friday – Jan. 29 – is the last day to register for both sessions of Financial Statements Training. The Alabama Department of Examiners of Public Accounts is providing this hands-on training to introduce county personnel to financial statement preparation. The first session will be Feb. 10-11 followed by a second session Feb. 17-18. Both will be in Montgomery and are limited to 25 participants. Please see this Financial Statements Training Memo for more info. To register, please email Donna Key (dkey@alabamacounties.org)
4. Unifying the County Voice: TEAM 2021 Report
The Association's new strategic plan, "Unifying the County Voice: Team 2021 Report" is in effect, which means work is already underway to achieve the 10 goals for unifying the county voice over the next 5 years, from increased member participation to an enhanced emphasis on public awareness of county government.
ACCA President Ray Long has tasked the Association staff with identifying those items in the TEAM 2021 report that could be undertaken within a reasonable amount of time. The Association staff is currently working to make tangible progress of the identified items ahead of the 2016 ACCA Annual Convention. Recognizing the implementation of some of these goals are more long-term in nature, other items will be addressed as we move nearer to January 1, 2021.
5. The First Team
More than 30 jailers throughout the state are part of the first-ever certification class through the ACCA-established Alabama Jail Academy. The four-course program provides basic training and instruction for jailers in conjunction with the Alabama Sheriffs Association. ACCA Executive Director Sonny Brasfield presented each Sheriff who sponsored an Academy graduate with a plaque recognizing the county as part of the AJA "First Team."
All counties are encouraged to participate in the program by registering their jail employees for the next class, scheduled for Feb. 17-18 in Prattville. The Inmate Management course covers booking and intake, security checks, inmate telephone use, visitation, key control, food services and the commissary. Regular registration is open through Wednesday, Feb. 3. Inmate Management | Feb. 17-18
---
We are closing in on the goal of 250 online surveys completed — just 55 more to go!  Let's make sure ALL 67 counties are represented! Encourage your friends and neighbors to answer the 2 questions about local road priorities: Take the DRIVE Survey!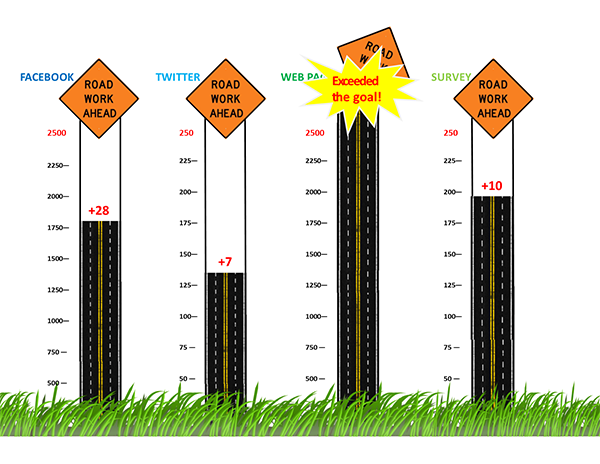 Let's work together to improve Alabama's road & bridge infrastructure by supporting the DRIVE Alabama campaign!  You can help by: