This Week's Top 5 Things You Need to Know
PLUS… HOT TIP: Got road complaints?
PLUS… Key Dates This Week
1. Focus on Safety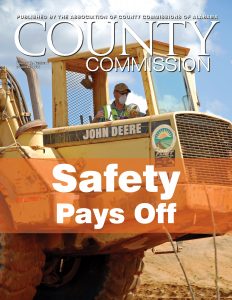 The newest edition of County Commission, the Association's magazine, should be in your mailbox any day. The 52-page issue focuses on counties' safety efforts throughout the state, including details on how one county's safety efforts produced enough revenue to give its employees a raise this year. The magazine also includes information on the new training program for motor grader operators that has been developed by a team of county engineers and other information that you can use to help protect your employees and save taxpayer dollars.
2. New Leadership
With the New Year, the Association always welcomes the input and leadership of persons who are assuming new roles inside the organization. The Association is extremely grateful for the insight, dedication and leadership of those willing to give of their time and talents to ensure the success of the Association and its programs.
Montgomery County Commission Chairman Elton Dean has been appointed to represent District 9 on the Association's Board of Directors.
The Association's Liability Self-Insurance Fund Inc. Board of Trustees has four new members:
Dean Calvert, Blount Co.
Ricky Burney, Clay Co.
Meredith Hammond, Marengo Co.
Tommy Bowers, St. Clair Co.
These new appointees replace Kim Ballard, Dallas Co.; Roger Creekmore, Colbert Co.; Louis Maxwell, Macon Co.; and Jackie Thomas, Lowndes Co., who led the Fund through an unprecedented period of growth over the last six years.
The Workers' Compensation Self-Insurers' Fund has five new members on its Board of Trustees:
Kelvin Cunningham, Talladega Co.
Chic Gary, Dale Co.
Steve Golsan, Autauga Co.
Doug Sinquefield, Houston Co.
Michael Williams, Greene Co.
And these new members replace Charlie Harris, Pike Co.; Mark Tyner, Bibb Co.; and Bobby Agee, Chilton Co., who have been instrumental in the continued growth and improvement of the workers' compensation program.
 3. ACCA Liability Fund Renewals Due
By now, all Liability Fund Members should have received their Liability Fund renewal packet. Please review your Declarations Page and Endorsements to make sure the information is correct. After reviewing the packet, sign and date the Declarations Page and return it, along with the Information Sheet, to ACCA, P.O. Box 5040, Montgomery, AL 36103, as soon as possible.
Renewal premium-contributions were due yesterday (January 1), so if you have not already sent in your payment, please mail it as soon as possible to ACCA Liability Self-Insurance Fund Inc., P.O. Box 11047, Montgomery, AL 36111.
4. Leading the Way in Transportation Safety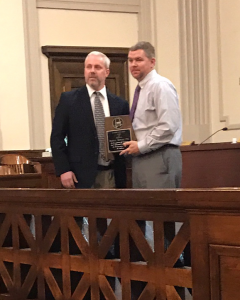 The Alabama Section Institute of Transportation Engineers (ALSITE) presented the annual ALSITE Transportation Safety Award to Elmore County Engineer Richie Beyer for his distinctive and substantial contributions to transportation safety. In particular, the professional organization noted Beyer's leadership and involvement in several major initiatives that have improved Elmore County's transportation system and county engineering in general in the state and region. Beyer is a past president of the Association of County Engineers of Alabama and the National Association of County Engineers (NACE), which named him Rural County Engineer of the Year in 2014.
5. Happy New Year! From the Expanded Alabama County Joint Bid Program
There's every reason to believe that 2017 will be another great year to save time and money by utilizing the County Joint Bid Program for purchasing, and this year the program has expanded to include corrugated metal pipe in addition to these long-standing categories: heavy equipment, road signs and herbicides. The new 2017 items are available for purchase, and as always, specifications were developed by county engineers and requirements of the competitive bid law have already been satisfied.
Alabama County Joint Bid Program 2017
---

Hot 5′s Hot Tip

Got road complaints? 
The next time you receive a complaint about local roads and bridges, consider adding one more step to your response. At the end of the conversation, encourage the citizen to submit their concern through the two-question, DRIVE Alabama survey.
It's an opportunity to say that DRIVE Alabama is working for a statewide solution to this crisis of deteriorated infrastructure, and that input from individual citizens helps make the case that this issue matters greatly to Alabamians.
www.drivealabama.org/about/survey/
---
KEY DATES THIS WEEK
THURSDAY, JANUARY 5
2 p.m. ATRIP-2 Webinar