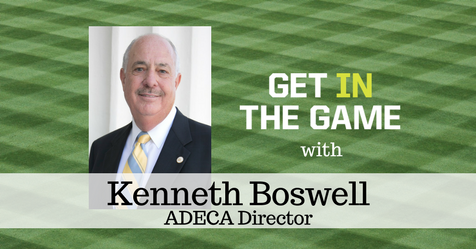 Another new face in state government this year is Kenneth Boswell, director of the Alabama Department of Economic and Community Affairs (ADECA).
At ACCA's 89th Annual Convention, Boswell will help county leaders "get in the game" with economic development.
You can't Get in the Game if you don't know the players.
Kenneth Boswell, ADECA Director
Appointed by Gov. Kay Ivey, May 2017
Mayor of Enterprise, 2003-2017
Enterprise City Council, 2000-2003
Enterprise was recognized as one of the "Best Alabama Towns," a top city for young families and among U.S. cities with the fastest-growing middle class populations. Coffee County was recognized by the Alabama Department of Commerce as one of the counties leading the state in economic expansion.
He was also in the mayor's office when an F4 tornado killed nine people in Enterprise and left $307 million in damage.
In his own words: "ADECA is committed to our mission: Building Better Alabama Communities. Through partnerships with local governments, nonprofit groups, state and federal agencies, and other agencies, the men and women of ADECA work every day to improve the quality of life for Alabamians."