This Week's Top 5 Things You Need to Know
1. Great News Everyone! 
The long awaited repair to the online registration system has arrived, so counties can now submit group registrations for ACCA events online without fear of being double-billed. As a reminder, you will be required to enter payment information (credit card or PayPal) at the time of registration as required by the ACCA Board of Directors since Oct. 1, 2011.  Upcoming ACCA Events
2. Housing Juveniles: How Does It Impact County Coffers?
The unified voice of county government has an often unique capacity to educate lawmakers on the statewide and local impact of legislative issues. The cost of housing juveniles has been a source of ongoing concern, and this year the Association will work for a legislatively-created study commission to review Alabama's juvenile justice system and make recommendations for changes that ensure adequate funding and administration of juvenile care, detention, and custody.
To support those efforts, ACCA is gathering data from all 67 counties. Please click the "Take Survey" button below, and let the Association staff know how much juvenile detention, medical care, and transportation have cost your county at three points over the last 10 years. These figures can be very persuasive, and your contributions are greatly appreciated.

3. ACCA Membership Directories Coming at District Meetings
A new year means it is time for an updated ACCA Membership Directory, and this invaluable resource will debut this week as District Meetings begin. Each county will receive a bundle of directories to be distributed among county officials and department heads. Many thanks to everyone who contributed to this publication!
The fast-paced Legislative Session is just around the corner, and District Meetings offer essential preparation so that "67 counties, One voice" is ready to strengthen and protect county government. The Association staff members are looking forward to seeing county officials and employees gathering in Morgan and Calhoun counties this week! If you haven't signed up yet, you are encouraged to pick the date and location most convenient for you. Online registration is open for 4 more dates:
Tuscaloosa County | Jan. 26, 2016
4. Legislative Contacts Survey: Sometimes It's Not What You Know, But WHO You Know…
History has shown that a special relationship can make a meaningful difference when seeking support or opposition from legislators on important county issues – particularly in the heat of a legislative battle.  For this reason, the Association staff is trying to match legislators to county officials and employees with whom they have close ties – whether in the same district or not!
In preparation for the 2016 Legislative Session, the Association staff is urging all ACCA members, Affiliate members, and county employees to complete the Legislative Contacts survey prior to attending one of the upcoming District Meetings. Please take 3-minutes to click the "Take Survey" button below, and check the names of any Alabama House and Senate members with whom you have a relationship.

5. New Ethics Commission Memo Re: Pre-certification of Events 
The Alabama Ethics Commission has released an important memorandum related to pre-certification of certain events attended by governmental officials and employees and permissible activities between officials/employees and lobbyists or vendors. All county officials and employees should review this memorandum carefully to make sure local events are properly pre-certified and that the guidance presented here is followed when considering accepting invitations for social events paid for by lobbyists or vendors. If you have any questions about this memorandum, please contact Mary Pons at the ACCA office (mpons@alabamacounties.org or 334-263-7594).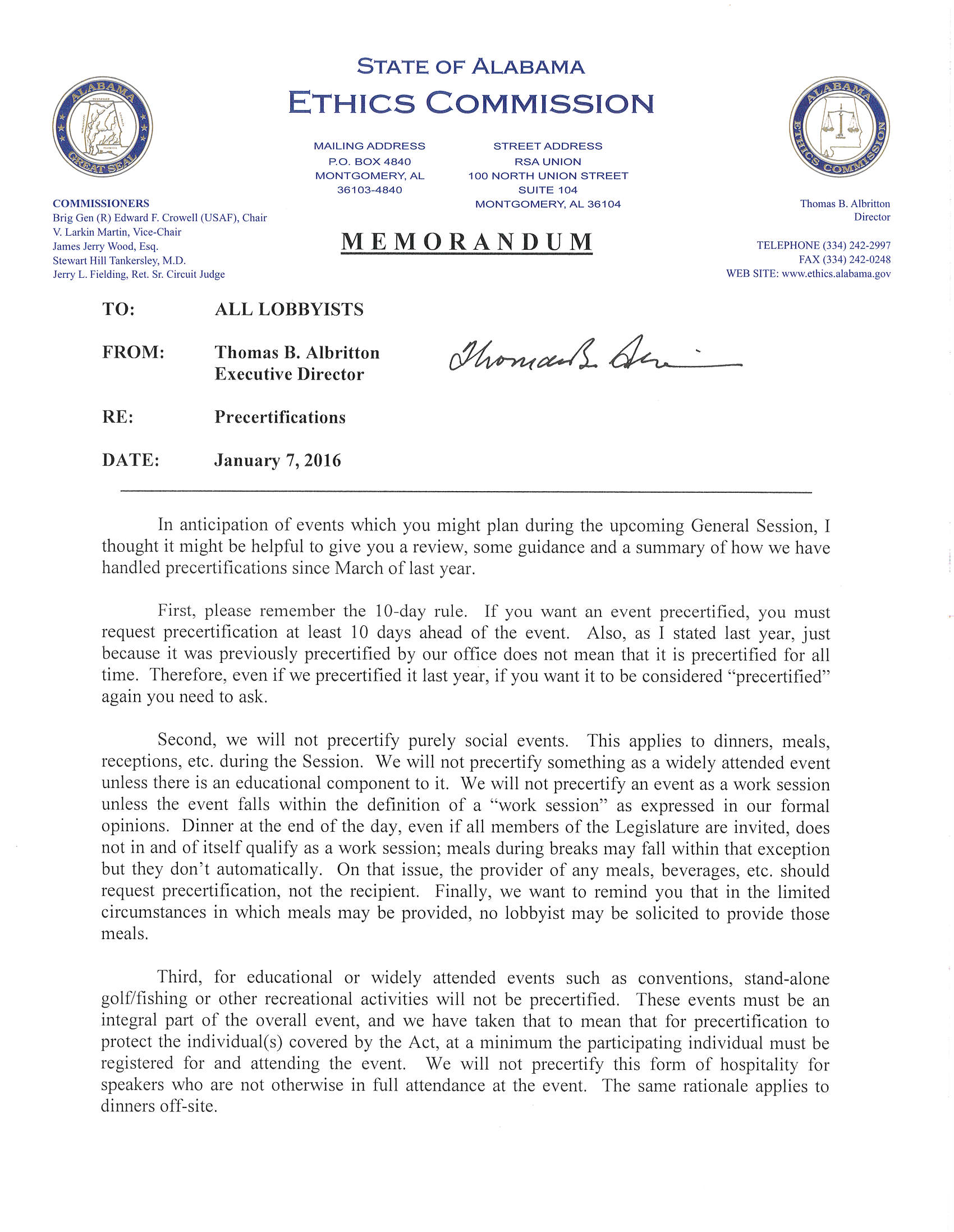 Pre-certification Memo from Ethics Director | Jan. 7, 2016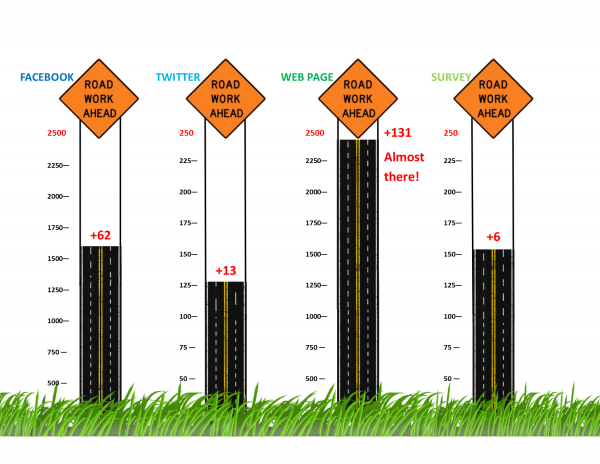 The DRIVE Alabama campaign is off to a good start in 2016! You can make a difference on these indicators by:
Note: The ACCA office will be closed Jan. 18 in honor of Dr. Martin Luther King Jr. Day.