This Week's Top 5 Things You Need to Know
PLUS… HOT TIP: Just 6 Cents for Better Roads

PLUS… Key Dates This Week
1. Here We Go Agai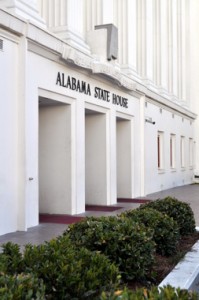 n
The Alabama Legislature will return to Montgomery later today for the year's first special session. Although the announced focus of the session is to clear the way for a November referendum on an Alabama lottery, a number of other issues important to counties are expected to surface. The Association staff will split its time between the convention and the Alabama State House this week. Please watch your "in box" for real-time updates and be prepared to contact your legislators should issues important to counties (such as revenue for road and bridge construction) bubble to the surface.
2. Do you CROAA?
For more than two decades, county government professionals who focus on the collection and enforcement of Alabama's sales tax laws have been the backbone of the Association's success in the tax arena. Does your county have membership in the County Revenue Officers Association of Alabama (CROAA) or are you "in the dark" about sales tax issues? This important organization will be very visible during Wednesday's convention activities, and all counties are encouraged to become a part of the Association's efforts to influence tax policy in Alabama.
 3. New Group Digs in to Juvenile Justice Woes
The Alabama Juvenile Justice Task Force, created earlier this year by Association-supported legislative action, began its work last week. Rep. Dexter Grimsley, a former juvenile probate officer in the Wiregrass, was elected chairman. On the task force, counties are represented by Etowah County Commissioner Tim Choate, and the meeting's agenda featured a detailed presentation from Etowah County Administrator Sherrie Kelley outlining expenditures for transportation, housing and medical care that are unfairly imposed on county government.
4. Property Program Takes Next Step
Proposals for the ACCA Liability Self-Insurance Fund, Inc.-Property Program (LSIF-PP) are being mailed this week to all counties and county-related entities that have returned the required documents to transition their property coverage from STAR Insurance to the LSIF-PP. The signed proposals should then be returned as quickly as possible so that coverage binders and annualized premium prorated invoices can be prepared and mailed. Not sure if you have returned all your required documents? Contact Belinda Bush (belinda.bush@meadowbrook.com // 334-954-7238) or Marcia Collier (mcollier@alabamacounties.org // 334-263-7594).
5. Another Outstanding Year
The Association's two insurance funds will hold a combined membership meeting tomorrow at the ACCA Convention where more than $3 million is set to be returned to the counties participating in the funds for the 2016-2017 year. This session will also include a financial update on the funds. Please make plans to have your county represented at the 2 p.m. meeting to be held in the Perdido Beach Resort's Sand Castle Room.
---
Hot 5′s Hot Tip

Just 6 Cents for Better Roads
Water can cost more than gasoline these days, but some are balking at a modest increase to the gas tax. At the Best Buy location in Montgomery, a 33-oz bottle of Smart Water is selling for $2.49. But across the state you can get a whole gallon of gas for $1.79.
Please share this image on social media – and here's a suggested comment to go with it:
Water can cost more than gas, but some are balking at a modest increase in the gas tax – that would be dedicated to better roads. #just6cents #DriveAlabama
---
KEY DATES THIS WEEK
It's CONVENTION WEEK!
TODAY
Special Session Begins, Alabama Legislature