This Week's Top 5 Things You Need to Know
PLUS… HOT TIP: Turn up the Volume
PLUS… Key Dates This Week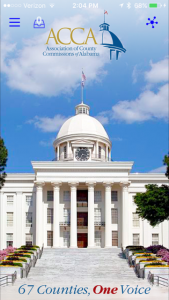 1. ACCA67 App: Installing and Troubleshooting
There has been a wonderful response to ACCA67, the Association's new app for smartphones and tablets that will help amplify the unified voice of county government.
To help members navigate the steps involved in getting the app and creating an account, the Association staff has prepared a troubleshooting guide.
If you've yet to do so, this is a good time to download the app onto your Apple and Android devices. Simply go to the Apple App Store or the Google Play Store, search for ACCA67 – all caps, with no spaces – and install.
The app is an exclusive, members-only benefit for the county family, and invitations were sent to ACCA members and affiliate group members. Any additional county employees who would like to use the app are encouraged to email jgaines@alabamacounties.org for an invitation.
Questions? Please contact ACCA Public Relations Manager Jeannie Gaines (334-263-7594 // jgaines@alabamacounties.org).
2. All Eyes on Washington, D.C.
Decisions made at the federal level have an enormous impact on county government, and the National Association of Counties (NACo) has some outstanding opportunities for county officials.
Inauguration: If you are headed to our nation's capital this week, the NACo Presidential Inauguration Reception is Thursday, 5-7 p.m. Also, NACo's conference center will be open on Inauguration Day. Use this link for more details about NACo Inauguration Activities
NACo Legislative Conference: County leaders will converge in D.C. for the NACo Legislative Conference, Feb. 25-March 1, because "New Administration + New Congress = New Opportunities." The delegation representing Alabama counties will caucus on February 26, and then counties will meet with Alabama's senators and representatives on February 28.
Register for the NACo Legislative Conference

3. ATRIP-2 Bond Issue Gets Positive News Coverage
Morgan and Butler counties have been helping citizens appreciate the local impact of ATRIP-2, and their efforts have garnered positive news coverage (with VIDEO!) for the proposed bond issue that would benefit all 67 counties.
If you would like assistance reaching out to local news media about ATRIP-2's local impact, please contact ACCA Director of Public Affairs Terri Reynolds (treynolds@alabamacounties.org // 334-263-7594) or ACCA Public Relations Manager Jeannie Gaines (jgaines@alabamacounties.org // 334-263-7594).
4. County Leadership at the Next Level
Congratulations to these county commissioners and professionals who have accepted additional responsibility to carry the "county voice" to state-level bodies working on critical issues. Your service is appreciated!
First Responder Wireless Commission
Chairman Mark Blankenship, Dale County
Local Government Health Insurance Program Board of Directors
Commissioner Charlie Sankey, Crenshaw County
Security for Alabama Funds Enhancement (SAFE) Board of Directors
Administrator & Attorney Rod Morgan, Coffee County
Solid Waste Management Task Force
Engineer Randy Tindell, Coffee County
Subcommittee on Felony Restitution Collection
Commissioner Ricky Hubbard, Bibb County
5. Legislative Session Prep Update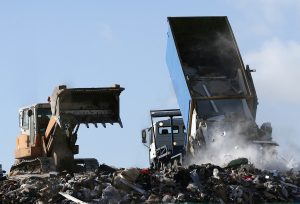 State-level task forces reviewing two key public services – solid waste management and voter registration – are on track to finalize recommendations in time for consideration during the 2017 Regular Session.
At its first meeting of the new year, the Solid Waste Management Task Force heard recommendations from ACCA Executive Director Sonny Brasfield regarding potential improvements to the landfill permitting process. The group is preparing to further review the Association's recommendation with the assistance of the Alabama Law Institute at its next meeting on January 24.
The Boards of Registrars Legislative Task Force met last week and reviewed draft legislation which should be finalized next month. Legislative goals include strengthening minimum job qualifications for registrars, granting appointing authorities the ability to remove an appointee and requiring the registrars' office to be open the same hours as the courthouse.
---

Hot 5′s Hot Tip
Turn up the Volume: Send Us YOUR News
As the conversation about ATRIP-2 continues throughout the state, please send local news coverage (links or PDFs) to ACCA so these can be shared on social media and directly with other counties. These can be directed to ACCA Public Relations Manager Jeannie Gaines (jgaines@alabamacounties.org).
---
KEY DATES THIS WEEK
TODAY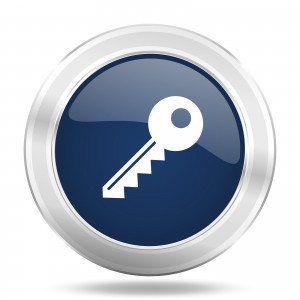 •  Martin Luther King Jr. Day – ACCA office closed
WEDNESDAY, JANUARY 18
• 10:30 a.m. | Association of County Administrators of Alabama (ACAA) Webinar
• Alabama Local Government Training Institute (ALGTI) Commissioner Education Course: Media Relations & the Open Meetings Law, Prattville, (January 18-19)
THURSDAY, JANUARY 19
• 10 a.m. | Alabama NENA (National Emergency Number Association) Quarterly Meeting, Florence
• 5 p.m. | National Association of Counties (NACo) Presidential Inauguration Reception, Washington, D.C.
• 6 p.m. | ACCA District Meeting #2, Prattville
• Alabama Local Government Training Institute (ALGTI) Commissioner Education Course: Media Relations & the Open Meetings Law, Prattville, (January 18-19)
• Alabama Local Government Training Institute (ALGTI) Commissioner Education Course: Ethical & Legal Issues, Prattville, (January 19-20)
FRIDAY, JANUARY 20
• Alabama Local Government Training Institute (ALGTI) Commissioner Education Course: Ethical & Legal Issues, Prattville, (January 19-20)
SUNDAY, JANUARY 22
• Alabama Sheriffs Association's 2017 Winter Training Conference, Montgomery, (January 22-25)