This is the prepared text of the inaugural address that 2015-16 ACCA President Ray Long, chairman of the Morgan County Commission, delivered at the 2015 ACCA Annual Convention. It was printed in the October 2015 issue of County Commission magazine. 
Collaboration, communication are key
for local leaders this year
On any issue, counties are stronger when speaking with 'One Voice'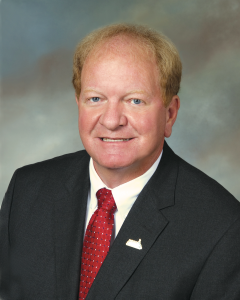 As we begin another year in county government, I want to thank you for allowing me to be your President. As we start a new year, we will focus on continuing the programs that are already in place and working hard – together – to carry forward the standard that has already been established by this Association.
For example, just this past year, we started our own unique leadership program we call PLAN 2016. Its purpose is to take commissioners that were re-elected to a second term and try to get them more involved in our association and prepared for being leaders inside our organization and in their communities back home.
We need more people to step up to the plate and take a leadership role in the Association. Every year we lose some of our leaders through retirement, health issues, and yes, some are defeated in their re-election bids. As you look around this room tonight, I want you to think about the turnover rate among commissioners.
Today, more than 70 percent of all commissioners in Alabama took office for the first time in the last 10 years. This means that less than 30 percent of our commissioners have at least 10 years of experience. This is the very reason why we need more involvement from each of you, because those of us in this room today ARE the leaders of our Association – even if we don't realize it. We have 18 people who are actively participating in PLAN 2016. Thank you for taking the challenge.
We are also working on our plans for the future of this very important – and rapidly-growing – organization. We have a committee called Team 2021 that is helping us chart goals for the next 5 years. If you have any ideas, goals or activities you would like us to include in our strategic planning, please let one of these committee members know.
In the coming year, we will begin our new property insurance program. This program will go along with our present Liability Fund and will be a complement to our Workers' Compensation Fund as well. Presently we have 57 of our 67 counties participating in our Liability Fund. These funds are set up specifically for counties. When we all work together and support these programs, it makes them stronger. The counties can only benefit from being on this team. I don't know of any negatives or any reasons why all 67 counties should not be participants. Our goal this year is to see every county join our Liability and Property Funds.
As we get ready to start another year, we face many challenges. The prison reform laws passed by the legislature this year didn't solve all the problems relating to our prisons and our county jails. We are very concerned that the new laws may simply shift more of the burden to us, the counties. I know many of you worked very hard on this legislation, including the sheriffs who stood side-by-side with us, to help ensure that counties didn't take all the hits, and I thank you for that. Ladies and gentlemen, I'm here to tell you tonight, it's not our place to solve the prison problem in Alabama. The current challenges in the state prison system have been created over decades of neglect and inattention as our state has consistently kicked the can down the road without finding real solutions.
Clearly this new law contains positive programs, but we are uncertain how the changes will impact counties. Tonight I want to challenge you to be ready when the 2016 legislative session begins. More prison reform is on the way – as we have heard during our convention – so it is time for us to re-commit ourselves to being outspoken advocates for county government so that the buck is not passed down to us.
I don't need to tell you tonight about the importance of increased funding for maintaining and improving county roads and bridges. You live with the problems every day, just as we do in Morgan County. I doubt if there is a county represented in this room tonight that isn't struggling to keep their roads up to standards. The revenue we receive today has not been increased since 1993 – yet all our costs have sky-rocketed since then. We can't buy a house for the same that we could in 1993. We can't even buy a gallon of milk for the same thing we paid in 1993. Why should anyone think we can provide a safe transportation system in 2015 by using 1993 revenue? A bill was introduced during the special session to address this issue, and during this convention we've talked about ways to promote our needs back home.
In the next few months I want to challenge each of you to contact your legislators, put them in the car, and show them the conditions of your county roads. Show them, first-hand, the needs in your county. We cannot fail. We must secure additional funding for our roads and bridges this year.
We have two constitutional amendments that will be on the ballot for voter consideration next year. The ACCA worked very hard during the last session to get these amendments on the ballot. Sonny and his staff will continue to send you information on how these two amendments will improve county government. Please be ready to actively support these amendments, and let's get them passed next election.
The ACCA has a great working relationship with the Alabama Legislature. Now Sonny will be the first to tell you we don't get everything we want. But we do pretty well. We want to continue that relationship into the next session. I have many friends that serve in the Legislature, just as most of you do. But as we begin to work side by side with other groups, like the Sheriffs' Association, the Association of Tax Officials, and our affiliate groups, we become stronger.
This year, I am going to reach out to the League of Municipalities and our friends in city government. Sure, from time to time we may have differences with our city friends, but when it comes time to defend the Alabama Trust Fund, for example, we have a common goal. We need to improve our communication with our city colleagues so that both of our voices can be stronger. You see, I really believe the old saying that all government is local. I really do believe that the real answers can be found at home, with local leaders. We must stick together and work out solutions to the problems we face together.
This is the fourth year that we have had the slogan, "67 Counties, One Voice." I really believe these words capture what our Association is all about. During the past year, we have seen the fruits of our labors and we've enjoyed a true partnership. But we still have some work to do.
Even inside our group we have more work to do. We still have county commissions that allow themselves to be split along party lines. Now, I realize there is nothing wrong with belonging to either of the political parties. When I ran for my position as chairman of the Morgan County Commission, I had to sign up for one of the parties. I ran on the Republican ticket. My friends, when I sit down at a commission meeting, I sit down as chairman of the Morgan County Commission, not the Republican chairman. You see, there is no place for party politics in a commission meeting, and there is no place for party politics in county government.
I've talked to some of you and you say "I can't vote with the Democrats" or "I can't vote with the Republicans." My challenge to each of you during this coming year is to forget what party you belong to when the commission meeting starts. Tonight, as I begin my year as your leader, I am asking you to put aside the party label. I understand that political parties are important at the state and national level. They are part of the "political" world in which we all live. But there is no place for party politics during county commission meetings.
If we are to truly be 67 Counties, ONE Voice, it must start inside our county commission meetings. And I challenge you to join me in putting aside party issues and picking up county issues this year.