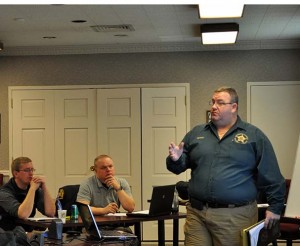 What started with a shared passion for helping law enforcement employees who have the most contact with jail inmates is coming into focus with a collaborative program that will be unique in the United States.
The Alabama Jail Training Academy, a new optional basic training program for county jail officers, will offer its first class, "Officer Responsibilities and Offender Supervision," this month.
The academy is a joint effort that came about after strong encouragement from the Alabama Sheriffs' Association, Calhoun County Sheriff Larry Amerson, Monroe County Sheriff Tom Tate and Lee County Sheriff Jay Jones.  In the end, the project involves national leaders and county commission encouragement as well as support from ACCA's liability and workers' compensation insurance funds.
"Jail officers put their lives on the line every day, and it is very important that they have the best training possible," said Bobby Timmons, executive director of the Alabama Sheriffs' Association. "Alabama has long been a national leader in training and professionalism in the sheriffs' offices, and this new program is another example of working together to provide the very best resources to our officers.  We are very proud to be a part of this program."
This program will consist of four two-day courses spaced throughout the year that can be taken in any order. Jail officers could finish the program – and earn a certificate of completion from the National Institute for Jail Operations – by September. Tuition reimbursement is available for counties in ACCA's self-insurance funds.
"We have talked about this program for a long, long time," said Sonny Brasfield, ACCA executive director. "It is a great testimony to what can happen when sheriffs and county commissions pull in a unified effort.  Certainly this program will provide needed training and educational opportunities for employees who face life-changing decisions on a daily basis.  But I hope it is also another step in working with our friends at the Alabama Sheriffs Association."
Brasfield also said the program hopes to attract participation from those counties that simply cannot send officers to the two-week program offered by the Alabama Peace Officers Standards and Training Commission.  "The Alabama Jail Training Academy is not a substitute for the tried-and-true program that has paid dividends all over this state," he said. But the new educational effort should benefit all counties, especially those who need to provide basic training that will be more convenient.
The National Institute for Jail Operations is responsible for the academy's curriculum, which is custom-tailored for Alabama. Instructors will be veteran county jail officers themselves who completed a "train-the-trainer" seminar in December.
These instructors will be the voices of long experience, steeped in best practices that align with the Alabama legal environment. Teaching their colleagues from around the state is an adjustment, but one they seem eager to make. "If we are going to be instructors, we need to step out of our comfort zone," said Mike Petrey from the Chambers County Sheriff's Office, as he explained appropriate attitudes and behaviors for dealing with people with abnormal behavior problems.
This level of training, based on what the courts require, is quite different from the old routines where in some cases inmate trustees showed new jail officers the ropes.
It is unique to see a statewide effort where sheriffs, the sheriffs' association and the county commission association are working together to protect counties, said Tate McCotter of the National Institute for Jail Operations, a partner division of the National Sheriffs' Association.
"This is very targeted training that is geared toward proactively defending counties and sheriffs from frivolous, inmate-filed lawsuits and teaching officers their everyday responsibilities and duties to run constitutionally safe jails," McCotter said. "We are excited to be a part of it."
From the January/February 2015 issue of County Commission magazine