This Week's Top 5 Things You Need to Know
PLUS… HOT TIP | Making the Most of the Spring Recess
PLUS… Key Dates This Week
1. Schedule Changes Ahead
Don't forget! The Legislature adjourned last Thursday for a two-week Spring Recess. The House and Senate will reconvene on the afternoon of Tuesday, April 4. The regularly-scheduled Goat Hill Reports and legislative webinars are temporarily suspended during the recess.
The Association staff will hold a special, 45-minute webinar dedicated exclusively to the ATRIP-2 bond issue THIS THURSDAY – March 23 – at 2:00 p.m. All county leaders are urged to participate.
ATRIP-2 WEBINAR ON THURSDAY | Register Now
With the imminent introduction of the bond issue, the Association staff is urging county leaders to utilize the Spring Recess to re-engage with legislators and members of the community. Wondering where to start? The Association staff has developed a toolkit as a reference guide for county officials and employees. It includes everything from talking points to sample press releases and editorials. Download the toolkit at the link below, and please contact Jeannie Gaines if you have any questions.
In honor of National County Government Month in April, the upcoming issue of County Commission magazine will feature a snapshot of some of the "Brilliant Ideas at Work" in Alabama's 67 counties. From Madison County's medical clinic for county employees to Blount County's Facebook Live town hall meeting – Alabama is full of brilliant county leaders who are committed to improving the quality of life in their communities. Look for the magazine to land in your mailbox next month!
4. AAEM Award Winners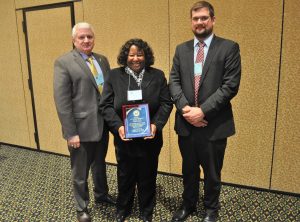 Emergency managers from across the state were recognized at last week's Alabama Association. of Emergency Managers (AAEM) Annual Conference for demonstrating dedication and excellence in their profession. These county leaders have directed the local response and crisis communications efforts for some of the state's worst natural disasters. Congratulations to all the winners! Click here to read more about the award recipients.
5. Safety Resources Available to Fund Members
Are you using Meadowbrook's online website, Safetysurance? If not, click here and sign up today to access numerous resources from safety plans and programs to live-streaming safety training videos. The website is an excellent resource for counties looking to improve their safety program. The content is FREE and available to all current members of Association's self-insurance funds. Questions? Contact Marcia Collier.
---
Hot 5′s Hot Tip
Making the Most of the Spring Recess
The two-week Spring Recess is an ideal time for county officials to touch base with legislators about county-related bills. In addition to ACCA priority bills, be sure to mention the DANGER bills outlined in last week's Goat Hill Recap. If you have any questions, please contact a member of the Association's policy team. Remember: contact information for all House and Senate members is available in the ACCA67 phone app.
---

KEY DATES
TODAY – MONDAY, MARCH 20
2 p.m. | PLAN Webinar
TUESDAY, MARCH 21
8:30 a.m. | Below 100 Class & Train the Trainer { Employee Education }, Stapleton/Baldwin County
WEDNESDAY, MARCH 22
2 p.m. | County Revenue Officers Assoc. of Ala. (CROAA) Quarterly Webinar
Ala. Local Government Training Institute (ALGTI) Course: Elective Personnel Administration { Commissioner Education }, Prattville (March 22-23)
Registration Deadline | Ala. Jail Training Academy (AJTA) Course: Corrections Law { Employee Education }, Prattville (April 5-6)
THURSDAY, MARCH 23
2 p.m. | ACCA Legislative Webinar: ATRIP-2
Ala. Local Government Training Institute (ALGTI) Course: Elective Personnel Administration { Commissioner Education }, Prattville (March 22-23)
Ala. Local Government Training Institute (ALGTI) Course: Roads & Bridges { Commissioner Education }, Prattville (March 23-24)
FRIDAY, MARCH 24
Ala. Local Government Training Institute (ALGTI) Course: Roads & Bridges { Commissioner Education }, Prattville (March 23-24)