This Week's Top 5 Things You Need to Know
PLUS… HOT TIP: Communicating with the News Media Using Your County's 10-Year Plan
PLUS… Key Dates This Week
1. ACCA Safety Incentive Discount Program Deadline Approaching 
This year, Halloween is about more than just "trick or treat" for counties in the 2015-16 Safety Incentive Discount Program (SIDP), because October 31 is also the deadline for submitting your county's SIDP application and documentation. If you've worked hard all year to boost safety, you won't want to miss this deadline – or the financial incentives! Click on 2015-16 SIDP Guidelines to access the Application in Appendix A (passwords required). Send applications and supporting documentation by email to Marcia Collier at mcollier@alabamacounties.org today. Questions? Contact Marcia at 334-263-7594 or by email.
2. VOTE YES on Amendments 3, 4 and 14 
There was outstanding participation from counties in last week's webinar about constitutional amendments on the November 8 ballot, and resources are available to help you answer questions about the ones particularly important to county government – protecting local laws, improving the local constitutional amendment process and supporting county programs and administration. Click the red button below to access a recording of the ACCA webinar, fact sheets and an overview of statewide amendments called "Deciphering Proposed Constitutional Amendments." County commissioners and administrators are also encouraged to watch their email for various campaign aids designed to promote the importance of voting YES on Amendments 3, 4 and 14. Questions? Contact Terri Reynolds (334-263-7594 or treynolds@alabamacounties.org).
3. A Few Days Left to Register for General Management Class
This Wednesday is the last day for county professionals to sign up for the last County Government Education Institute class of 2016. General Management, which will be taught October 26-27, is a shared elective for the ACAA, ACEA and AAND programs and an excellent opportunity for continuing education credits. This class is designed to provide supervisory personnel with valuable skills to improve their effectiveness as managers of county departments and agencies.  Participants will be provided expert training on important issues such as leadership, conflict management and management styles. 
Click here for a full agenda or to register
4. Save Our RSA Town Hall Meeting in Shelby County
All active and retired members of the Retirement Systems of Alabama are invited to an October 27th town hall meeting organized by the Save Our RSA group on Facebook. RSA members will discuss the current threats to the retirement system and provide factual information about current and future benefits. The meeting begins at 6 p.m. in the Pelham Civic Center, 500 Amphitheater Road, Pelham, AL 35124. You can also connect with the group on Twitter at @SaveourRSA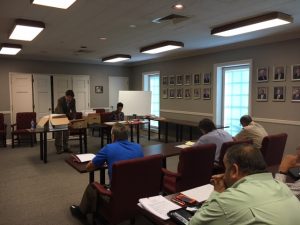 5. Joint Bid Program | "67 Counties, One Voice" in Action 
The massive operation that saves time and money for all 67 counties – more properly known as the County Joint Bid Program – will reach a key milestone this week when the committee meets Wednesday to review bids for heavy equipment, herbicides and metal pipe. A number of vendors were on hand for the bid opening Friday, and appreciation is expressed to committee members who give generously of their time to determine the lowest responsible bidder for numerous items. In the meantime, 2016 prices are good through Dec. 31.
---
Hot 5′s Hot Tip

Communicating with the News Media
Using Your County's 10-Year Plan
Every county has a powerful communication tool for conversations about funding roads and bridges. In just a single, attractive page, the 10-Year Plans show the local impact of a modest increase in the gas tax over the next decade, and Crenshaw County used the document very effectively as the basis for this recent article: "ALDOT sees need for increase in gasoline tax," The Greenville Advocate
Making the most of these 10-Year Plans is on the agenda for this week's Association of County Engineers of Alabama (ACEA) webinar, set for 2 p.m. Thursday. Each county is encouraged to have at least one participant on the call in preparation for the 2017 Regular Session of the Alabama Legislature.
Register | ACEA Webinar | 2 p.m. Thursday
---

KEY DATES THIS WEEK
TODAY 
Columbus Day, ACCA office closed
TUESDAY, OCTOBER 11
• Alabama Association of Emergency Managers (AAEM) Legislative Review Task Force
• Last Day of Regular Registration | County Government Education Institute (CGEI) General Management (October 26-27)
• Alabama National Emergency Number Association (NENA) Gulf Coast 9-1-1 Conference (October 11-14)
WEDNESDAY, OCTOBER 12
Bid Review | Alabama County Joint Bid Program
THURSDAY, OCTOBER 13
2 p.m. Webinar | Association of County Engineers of Alabama (ACEA)
SATURDAY, OCTOBER 15
Information Sheets Due | ACCA Workers' Compensation Self-Insurers' Fund