This Week's Top 5 Things You Need to Know
PLUS…Hot 5's HOT TIP | Do You Know Your Leadership?
PLUS…Key Dates This Week
1. Tell Us Your Local Issues
What issues in your county can be resolved through statewide legislation? As part of the 2018 legislative development process, the ACCA is compiling a list of local legislative issues to discuss at the upcoming District Meetings — so, we need to hear from you!
Click here to fill out a short survey to share with us the most important legislative issues impacting your county.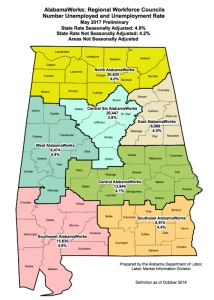 2. New County-by-County Unemployment Numbers Released
Are your county's employment numbers on the rise? Statewide unemployment rates are 1.7% lower than they were in August 2016, according to new data released by AlabamaWorks and the Alabama Department of Labor.
Click here to view the county-by-county statistics.
3. GEDI Policy Summit to Focus on Rural Alabama Policy
The 2017 Auburn University Government and Economic Development Institute Policy Summit will take place Nov. 15-16 at the Marriott Grand National Hotel and Conference Center in Opelika and will feature a "Blueprint for Rural Alabama" theme. The summit will bring together state, county and municipal elected officials, administrators, employees and major stakeholders to discuss public policy issues affecting rural Alabama. Presentations and roundtable discussions will explore physical, human and civic infrastructures, as well as propose economic development strategies. For more information, click here.
The Association of County Engineers of Alabama has a new look! Together with Association staff, a team of dedicated ACEA members created a new website for county engineers that now features project spotlights, employment opportunities, member resources and much more.
Click here to view the new ACEA website — and while there, be sure to leave a comment telling them what you think!
5. Help Determine ACCA's 2018 Legislative Course
Have you registered? Set for Dec. 6-7 in Florence, the ACCA 2017 Legislative Conference will be your final opportunity to help determine the Association's course for the 2018 Legislative Session. In Florence, you'll learn about and decide the ACCA's 2018 legislative priorities, participate in breakout sessions, discuss strategies for the upcoming session and speak up for your county's legislative needs.
An agenda will be released soon. In the meantime, find more information or register for the conference by clicking here. We need you to join us in December so that we may speak with One Voice come January.
---
Hot 5's Hot Tip

Do You Know Your Leadership?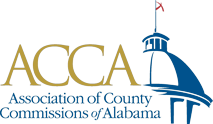 Do you know who to call with questions about the Association? You can find information on our Board of Directors, Legislative Committee, Staff, and Partners all on our website! The help you need is always just a phone call away.
---
KEY DATES THIS WEEK 
TODAY MONDAY, OCTOBER 2
TUESDAY, OCTOBER 3
WEDNESDAY, OCTOBER 4
THURSDAY, OCTOBER 5
FRIDAY, OCTOBER 6
SATURDAY, OCTOBER 7
• SIDP Driving Simulator for Deputies