This Week's Top 5 Things You Need to Know
PLUS… HOT TIP: Talking Points for the ACCA Convention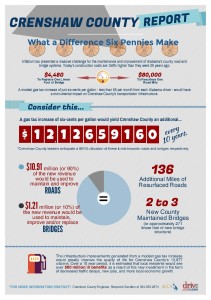 PLUS… Key Dates This Week
1. What a Difference Six Pennies Can Make in Your County 
With a special session of the Alabama Legislature starting on Aug. 15 (just two weeks away!), today's deadline for 10-Year Road Plan information is all the more urgent. As you can see in this example from Crenshaw County, the ACCA staff is taking the information county engineers supply and creating one-page reports showing the impact a modest gas tax increase would make in all 67 counties. If your county has not already done so, engineers are encouraged to take 5 minutes to complete the 10-Year County Road Plan form and return it to ACCA today. At the ACCA Convention, there will be a session devoted to how to best utilize this communications tool. Questions? Contact Terri Reynolds (treynolds@alabamacounties.org // 334-263-7594)
2. TODAY is Last Day to Volunteer for Motor Grader Training
Rolling out the new motor grader training program will require the active participation and cooperation of all members of the Association of County Engineers of Alabama (ACEA). Additional classroom and field instructors are needed as well as host counties for training sessions. If you've yet to do so, please complete the attached document and indicate how you and your county can assist. Members of the ACEA Motor Grader Training Committee are meeting at ACCA headquarters on Wednesday to review volunteer responses and develop plans for moving forward.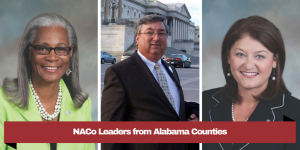 3. Alabamians in County Leadership at the National Level
The National Association of Counties (NACo) is moving into the 2016-17 year with new leadership, and congratulations are in order for these Alabama county commissioners who are part of that team.
Mobile County Commissioner Merceria Ludgood begins her second year on the NACo Executive Committee representing the 12 states of the South Region. (You are encouraged to like NACo Southern Region on Facebook and follow @NACoSouthRegion on Twitter.)
Escambia County Commissioner Larry White and Chambers County Commissioner Debbie Wood have been re-appointed to the NACo Board of Directors.
4. ACAA Regional Meetings Going Strong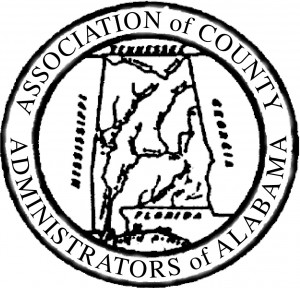 Thanks to the leadership of the officers and board members, the Association of County Administrators of Alabama (ACAA) launched a series of regional meetings this summer to bring members together for roundtable discussions of current issues. Another major benefit is enhanced communication and networking between professionals with many years on the job and their more junior colleagues. Special appreciation is expressed to the following counties serving as hosts for regional meetings:
Pike, Marengo, Marion, Clay, Escambia,
Morgan, Shelby, Lee and Etowah
5. Wanted: 24 Effective Leaders
The unified voice of county government depends on commissioners who engage at the state and federal levels through ACCA. Each year, counties elect 24 leaders to the ACCA Board of Directors and Legislative Committee, and a number of commissioners have already stepped forward for the 2016 elections. Candidates for ACCA Board of Directors & Legislative Committee need to submit a candidate form no later than this Friday, August 5. Candidates who meet this deadline will be listed on the official ballots for their district. An updated list of candidates is available at the ACCA Candidates Page
---
Hot 5′s Ho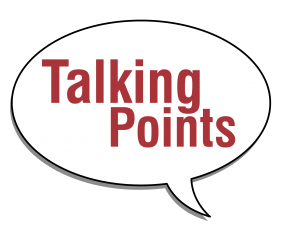 t Tip

Talking Points for the ACCA Convention
Here are a few talking points that might come in handy if anyone asks why it is important for your county to participate in the ACCA Annual Convention. This is a good one to start with:
Convention sessions are approved for 31 education credits for county commissioners and employees
---
 KEY DATES THIS WEEK
TODAY
Last day to volunteer, Association of County Engineers of Alabama (ACEA) Motor Grader Operator Training
Regional Meeting, Association of County Administrators of Alabama (ACAA) | Escambia County
Effective Date for 17 New Laws Affecting Counties
TUESDAY, AUGUST 2, 2016
ACCA Nominating Committee | ACCA Headquarters
Regional Meeting, Association of County Administrators of Alabama (ACAA) | Morgan County
WEDNESDAY, AUGUST 3, 2016
Board of Trustees, ACCA Workers' Compensation Self-Insurers' Fund | ACCA Headquarters
Motor Grader Training Committee, Association of County Engineers of Alabama (ACEA) | ACCA Headquarters
Regional Meetings, Association of County Administrators of Alabama (ACAA) | Shelby & Lee Counties
THURSDAY, AUGUST 4, 2016
Board of Trustees, ACCA Liability Self-Insurance Fund Inc. | ACCA Headquarters
FRIDAY, AUGUST 5, 2016
Last day to submit Candidate Form for ACCA Board of Directors or Legislative Committee
Regional Meeting, Association of County Administrators of Alabama (ACAA) | Etowah County
12:01 a.m. | Back-to-School Sales Tax Holiday Begins
SATURDAY, AUGUST 6
Back-to-School Sales Tax Holiday
SUNDAY, AUGUST 7
Midnight | Back-to-School Sales Tax Holiday Ends