This Week's Top 5 Things You Need to Know
PLUS… HOT TIP: County To-Do List Created by Citizens
PLUS… Key Dates This Week
1. Workers' Compensation Refunds Being Mailed Soon
Checks totaling nearly $1.1 million will be mailed to members of the ACCA Workers' Compensation Self-Insurers' Fund next Monday. The checks include investment dividends and safety incentives for qualified counties. Have questions? Contact Henry van Arcken or Marcia Collier at 334-263-7594.
2. Off-Season Preparation is Making a Difference
With the first three weeks of the Regular Session behind us, it is clearly evident that the long hours of off-season preparation are paying off. On behalf of all 67 counties, the Association expresses gratitude to leaders who have represented the county voice on panels digging deep into specific issues.
Alabama Board of Registrars Legislation Task Force
Commissioners Steve McKinnon (Dale), Rhondel Rhone (Clarke), Randy Vest (Morgan), & Ronda M. Walker (Montgomery)
Juvenile Justice Study Commission
Commissioner Tim Choate (Etowah)
Alabama Disaster Recovery and Resiliency Task Force
Commissioner Dean Smith (Coffee), EMA Directors Eric Jones (Elmore) and Jonathan Gaddy (Calhoun), and Engineer Richie Beyer (Elmore)
Solid Waste Management Task Force
Engineer Randy Tindell (Coffee)
Subcommittee on Felony Restitution Collection
Commissioner Ricky Hubbard (Bibb)
3. Motorgrader Training Moves Forward in March
The Association of County Engineers of Ala. (ACEA) is making good progress toward launching a new education program for motorgrader operators. A three-day "Train-the-Trainer" session for the expert operators tapped to serve as instructors is scheduled for the end of March. These classroom and field training sessions will be led by county engineers, and appreciation is expressed to Elmore County for hosting. Regional training opportunities will be announced in the coming months.
4. Great Turn Out at the First County Day
Last Wednesday Association staff welcomed over 30 county officials to the Statehouse for the first County Day of the 2017 session. After a legislative briefing at the Association office, attendees participated in a full afternoon of discussions with their local legislators as well as committee meetings where nine Association bills received favorable reports. No doubt, the presence of the county family left a positive impression with legislators!
The next County Day will be held March 8 and the full schedule is available here. County leaders and employees are encouraged to amplify the county voice by attending one of the remaining five events. Please click here to RSVP
5. 22 and Counting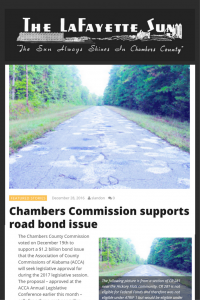 County commissions – and even city councils – all over Alabama have adopted resolutions supporting efforts to generate new revenue for road and bridge projects. And the Association's ATRIP-2 bond issue program continues to attract media and community support all over the state.
But there are still 22 county commissions that have not yet adopted resolutions in support of the initiative. With introduction of the enabling legislation expected within the next week, it is even more important that the Association present a united front. The counties that are yet to go on record supporting new revenue are encouraged to do so before March 15.
A copy of the sample resolution can be accessed here:
Draft Resolution Supporting ATRIP-2
To read a sampling of the media coverage, use the link here: www.alabamacounties.org/atrip2/
If you would like to discuss the issue with the Association staff, contact sbrasfield@alabamacounties.org
---

Hot 5′s Hot Tip
County To-Do List Created by Citizens
Citizens have been telling DRIVE Alabama what local road and bridge projects would be their top priorities, and the responses are available as individual County To-Do Lists. Each and every response is further evidence that Alabamians want a solution to this problem.
Can we get 1000 surveys by Monday, March 27? So far, Talladega County is in the lead with 48 responses! Participation is also strong in Elmore, Wilcox, Jefferson, Hale and Lee counties.
Encourage members of your community to participate by sharing the survey on your social media pages.
It's just 2 questions!
---
KEY DATES THIS WEEK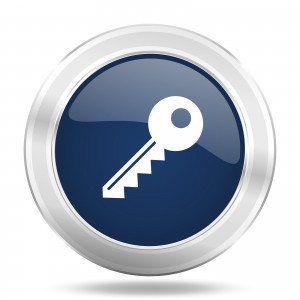 TODAY – MONDAY, FEB. 27
National Association of Counties (NACo) Legislative Conference, Washington, D.C.
TUESDAY, FEB. 28
9 a.m. | ATRIP-2 Community Engagement in Dale County, County Commission's Public Meeting on ATRIP-2, Daleville City Hall (prior to commission meeting)
9 a.m. | Alabama Delegation Meetings including Roundtables with Sens. Shelby and Strange, in conjunction with National Association of Counties (NACo) Legislative Conference, Washington, D.C.
WEDNESDAY, MARCH 1
National Association of Counties (NACo) Legislative Conference, Washington, D.C.
THURSDAY, MARCH 2
5 p.m. | ATRIP-2 Community Meeting in Sumter County, Sumter County Courthouse