2019 County Joint Bid Program | Heavy Equipment |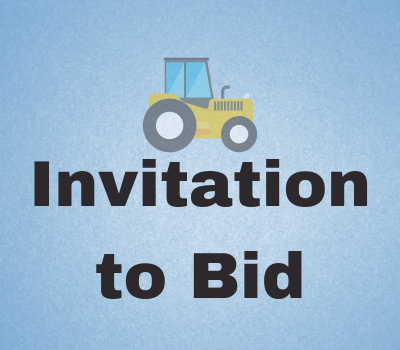 2020 Invitation to Bid | Heavy Equipment
ALABAMA COUNTY JOINT BID PROGRAM
BID OPENING ANNOUNCEMENT
Bids will be opened for the following items on Friday, September 20, 2019 beginning at 10:00 a.m. Central Time:
Excavators
Dump Bodies
Motorgraders
Telescopic Boom Cutter
Dump Chassis
Backhoes
Wheel Loaders
Lowboy Tractors
Mowers
Skid Steer Attachments
PTO Tractors

Backhoes
Road Wideners
Bulldozers
Single Drum Roller
All bids must be received in the ACCA office no later than 10:00 a.m. on September 20, 2019.
Questions regarding the bid opening or downloading bid specifications should be directed to Kenya Howard (jointbid@alabamacounties.org) or 334-263-7594.
Published:
August 16, 2019
Complete 2019 Heavy Equipment Price List
Purchase Order Form              Vendor Contact List
The 2019 County Joint Bid Program is improving the procedures for purchases of optional equipment for heavy equipment items to allow better flexibility for counties.
For renewed heavy equipment items, as indicated on the comprehensive heavy equipment item list, the optional equipment authorized under the bid specifications on these specific heavy equipment orders may be deleted by the county at the time of purchase, and in that event, the cost of that item as provided by the vendor shall be deducted from the total cost of the item.
For awarded heavy equipment, as indicated on the Complete 2019 Heavy Equipment Price List, any available optional equipment may be purchased at the percent difference between the Manufacturer's Suggested Retail Price Sheet (MSRP) and the actual awarded bid price of the standard machine. The MSRP Option Discount may be found on the Complete 2019 Heavy Equipment Price List. Any individual county may choose to add any available option to the standard machine at the percentage discount at the time of purchase.
If you have any questions related to the new optional equipment procedures, please contact Chase Cobb at ccobb@alabamacounties.org or (334) 263-7594.
HEAVY EQUIPMENT ITEMS
* new option procedures (percent discount off MSRP)
♦ renewed item/old option procedures
ASPHALT MILLING ATTACHMENTS

DOZERS

Asphalt Milling Attachment – Option A*




 80-HP, Heavy-Duty Hydrostatic Bulldozer – Option A*

Asphalt Milling Attachment – Option B*


80-HP, Heavy-Duty Hydrostatic Bulldozer – Option B*


Asphalt Milling Attachment – Option C*

100-HP, Heavy-Duty Hydrostatic Bulldozer – Option B*

Asphalt Milling Attachment – Option D*

100-HP, Heavy-Duty Hydrostatic Bulldozer – Option C*

 

100-HP, Heavy-Duty Hydrostatic Bulldozer – Option D*

SKID STEER LOADER & ATTACHMENTS 

125-HP, Heavy-Duty Hydrostatic Bulldozer – Option A*

Skid Steer Loader (No Attachments)*

125-HP, Heavy-Duty Hydrostatic Bulldozer – Option B*

Skid Steer Loader with Attachments*


Mulching Dozer*

 
 

BACKHOES

 HALF-ROUND END DUMP TRAILER

Light Duty Backhoe*


28-Foot, Half-Round End Dump Trailer*


Medium Duty Backhoe*


 

Heavy Duty Backhoe – Option A*


LOWBOY

TRAILERS 

Heavy Duty Backhoe – Option B*


35-Ton Lowboy Trailer*

Heavy Duty Backhoe – Option C*


55-Ton Lowboy Trailer*



 
 

TRACTORS

WHEEL LOADERS

85 PTO Tractor – Option A*

3 CY Wheel Loader – Option A*
 

85 PTO Tractor – Option B*

3 CY Wheel Loader – Option B*

95 PTO Tractor*

3 CY Wheel Loader – Option C*

110 PTO Tractor*

3.65 CY Wheel Loader – Option A*

 

3.65 CY Wheel Loader – Option B*

TRACK-MOUNT EXCAVATORS

 

Track-Mount Excavator – Option A-1*

DUMP BODIES

Track-Mount Excavator – Option A-2*


16′ Steel Dump Body – Option A (Manual) ♦



Track-Mount Excavator – Option A-3*

16′ Steel Dump Body – Option A (Automatic) ♦



Track-Mount Excavator – Option B-1*


16′ Steel Dump Body – Option B (Manual)*



Track-Mount Excavator – Option B-2*


16′ Steel Dump Body – Option B (Automatic)*


Track-Mount Excavator – Option B-3*

16′ Steel Dump Body – Option C (Manual) ♦



Track-Mount Excavator – Option C-1*


16′ Steel Dump Body – Option C (Automatic) ♦


 

Track-Mount Excavator – Option C-2*

16′ Steel Dump Body – Option D (Manual) ♦



 

16′ Steel Dump Body – Option D (Automatic) ♦



WHEELED EXCAVATORS

16′ Steel Dump Body – Option E (Manual)*



21-Ton Wheeled Excavator*

16′ Steel Dump Body – Option E (Automatic)*



19-Ton Wheeled Excavator*

16′ Steel Dump Body – Option F (Manual) ♦



 

16′ Steel Dump Body – Option F (Automatic) ♦



HIGHWAY-SPEED, TRUCK-MOUNTED EXCAVATOR

 

2-Wheel Drive*

HEAVY-DUTY DUMP CHASSIS

4-Wheel Drive*

Heavy-Duty Dump Chassis – Option A*
 

 

Heavy-Duty Dump Chassis – Option B*



COMPACT TRACK EXCAVATORS

Heavy-Duty Dump Chassis – Option C*



Compact Track Excavator – Option D-1*

Heavy-Duty Dump Chassis – Option D*

 

Compact Track Excavator – Option D-2*

Heavy-Duty Dump Chassis – Option E*

Mini Track Excavator – Option E-1*

 
 

LOWBOY TRACTOR

MOTORGRADERS

Lowboy Tractor – Option A*



Heavy-Duty Motorgrader– Option A*

Lowboy Tractor – Option B*



Heavy-Duty Motorgrader– Option B*

Lowboy Tractor – Option D*


 

Medium-Duty Motorgrader – Option A*

 

Medium-Duty Motorgrader – Option B*

MOWERS

Medium-Duty Motorgrader – AWD*

Ride-On Industrial Boom Mower*


Light-Duty Motorgrader – Option A*

 

Light-Duty Motorgrader – Option B*

ROAD WIDENER

 

6-Foot Road Widener ♦



POTHOLE PATCHERS

8-Foot Road Widener ♦



One-Man Pothole Patcher – Option A*

 

One-Man Pothole Patcher – Option B*

SINGLE-DRUM VIBRATORY ROLLER

Trailer-Mount Patcher – Diesel Option*


Rubber Tire Roller*



Trailer-Mount Patcher – Gas Option*

 

Trailer-Mount Mastic Patcher/Crack Sealer

 
 
 

ASPHALT STORAGE TANKS

 

Asphalt Storage Tanks